Editor's note: This is a regular feature profiling senior athletes at Bryant High School.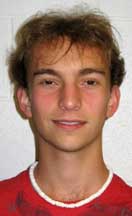 NAME: Chris Oldfield
PARENTS: Michael R. Oldfield and Diane Marie Oldfield
SIBLINGS: I have a sister, Lindsay. She's in 10th grade.
FAVORITE SUBJECT IN SCHOOL: Probably Chemistry or Physics
WHAT DO YOU LIKE TO DO IN YOUR SPARE TIME? I like to play guitar and, of course, sports and I also like to hang out with my friends.
FAVORITE FOOD: Pasta
FAVORITE MUSIC ARTIST OR GROUP: I like Led Zeppelin
FAVORITE MOVIE: Iron Man[more]
FAVORITE TV SHOW: Fringe
WHAT WAS YOUR FAVORITE TOY AS A KID? Legos
WHAT ARE YOUR PLANS AFTER HIGH SCHOOL? I plan to go, hopefully, out of state to college. I want to be an engineer and get a doctorate or masters in Bio-medical engineering or Robotics.
OTHER THAN YOUR PARENTS, WHO HAS HAD THE BIGGEST INFLUENCE ON YOUR LIFE? Probably my friends. They've motivated me to be more outgoing and more assertive and really try harder at doing things like sports. They've also helped me be more competitive in school.
FAVORITE THING ABOUT CROSS COUNTRY: I really like being with a group running together, trying to push myself. And it's also the nice feeling you get when you're running and you don't have to think about much of anything else. It's just really kind of serene.
WHAT'S YOUR APPROACH TO A RACE (Strategy/Preparation)? I have to drink and eat before hand. I have asthma so I like to us my inhaler for that. But psychologically, I like to calm myself down, try not to get too excited because that makes me feel bad when I'm running. Then I tell myself that this is going to be the best race that I'm ever going to have and I think that helps me the most.
WHAT DO YOU THINK OF THE SEASON SO FAR? I think, personally, I've made a lot of improvement but, as a team, we've definitely got some younger kids who are really pushing themselves. They're going to be really good cross country runners when they're seniors.
WHAT'S BEEN THE HIGHLIGHT TO THE SEASON? For me, probably the last race. I finally broke my goal on the last race just by a couple of seconds. It was a really a great way to finish up my cross country season.
AFTER YOU'RE THROUGH RUNNING CROSS COUNTRY AT BHS, WHAT DO YOU THINK YOU'LL REMEMBER MOST FONDLY ABOUT IT? The dedication that I put myself through to be a part of the team. I think that really built on how I push myself in other things now because cross country is definitely one of the hardest things I've ever had to do and I would totally do it again if I had the chance.