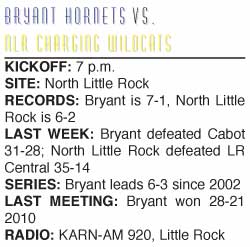 By Rob Patrick
Bryant's farewell tour through the 7A-Central Conference has reached the climax with the last two games, starting tonight with a showdown against the North Little Rock Charging Wildcats.
With a win, the Hornets could clinch at least a share of what would be their fourth conference championship in their 10 years in the league. They could make it an outright title with another win in the regular-season finale against Little Rock Central on Thursday, Nov. 3. Going into tonight's game, Bryant is 50-18 against league foes since 2002.
But North Little Rock has been one of the places that[more] have been the toughest for Bryant in those 10 seasons, particularly recently. In 2009, they suffered a 29-7 loss that knocked them out of a bid for a piece of the league crown. In 2007, they were on their way to an unbeaten run through the conference only to have a North Little Rock team that wound up last in the league stun them, 21-0.
The last Bryant team to win at North Little Rock was in 2004 when one of the best Hornets teams ever escaped with a 42-39 win.
It's usually Senior Night, which adds to the Charging Wildcats' emotions and, as was the case in 2009, this time a share of the conference lead will be on the line. And, with North Little Rock finishing at Van Buren, no doubt the Cats will approach the game as THE championship.
Incidentally, the only Central championship North Little Rock has won or tied for in the 10 years Bryant's been in the league was that 2009 season.
"It's an exciting game," acknowledged North Little Rock head coach Brad Bolding. "We've got a really good football team coming in here and, obviously, there's a lot at stake. Our kids are excited that it's at our place. Obviously, we feel like that's an advantage. I think anybody would if they're playing at home.
"They're a good football team," he reiterated regarding the Hornets. "You've got to be ready to play football. You can't have penalties and you've got to cut out any of those little mistakes.
"We had four opportunities to score against Central last week that we didn't score on," he recalled in reference to his team's 35-14 win over the Tigers. "We definitely can't get in that situation tonight. When we get the ball, we've got to hang onto it, give our defense a little time to get a breather because I know they like to stretch the field and do some things downfield. They've got a lot of skill guys they get the ball too. We've got to do a good job of bottling them up. They're talented enough to break 'em. That's just part of it when you've got good athletes. They're going to make plays. We've got to minimize those as much as we can and just fly around and get to the ball."
Bryant head coach Paul Calley had similar things to say about the Wildcats.
"Very talented, very fast, very strong," he said. "We always catch them when they're playing their best. They seem to be, over the last three weeks, playing really well on both sides of the ball.
"The thing we have to hope for is that they have a letdown after their emotional game with Central last week and, hopefully, they'll make some mistakes that will allow us to capitalize," he added. "If we can force some turnovers, that'd be great. If we can get field position with a couple of stops, that'd be great also. If we have to go 80 yards, it's going to be difficult."
"They're a very talented offensive football team," stated Bryant defensive coordinator Steve Griffith. "They've moved the ball well against everybody they've played so far this year. It'll be a big challenge for the kids.
"They've got a quarterback that's an outstanding athlete, very elusive," Griffith said, referring to senior Kaylon Cooper, who accounted for over 250 yards of total offense against Bryant last year.
"The two running backs are both very capable," he continued. The Wildcats lost highly-touted back Altee Tenpenny early in the season but haven't seemed to miss a beat with senior Kendall Williams and junior Rodney Bryson.
"They've got a big, tall receiver at tight end and a big, tall receiver out at split end and a good, solid offensive line," Griffith concluded.
The tight end is 6-3, 240-pound junior Cameron Williams. The wideout he referred to is 6-2, 187-pound senior Jonathan Parks, who was a freshman at Bryant before transferring to Subiaco Academy for two years then making his way to North Little Rock.
Bryant is on a six-game winning streak this season after a second straight 31-28 win last Friday, beating Cabot on the heels of Conway. In the latter game, Bryant was outmanned physically but found a way to win. The same appears to be the case this week with the added factor that some key people are hobbled with injuries.
Conway is one of two teams that have defeated North Little Rock, 20-17, on Sept. 30.
"We were ahead 17-3 at halftime and we should've been up by two more touchdowns," Bolding mentioned. "We dropped two touchdown passes.
"We had a lot of mental errors all the way up through the Conway game," he said. "We had 400 yards against Bentonville (in a season-opening 49-14 loss), got down to the 1 and didn't score, got inside the 20 three times and didn't score. Of course, they had a lot to do with it. I don't want to take anything away from the teams we played. But we made a lot of mental errors that cost us those games.
"We pretty much had a 'Come to Jesus' meeting after the Conway game and it's been a totally different football team," Bolding related. "I'm really proud of the way our guys responded to the challenge."
North Little Rock has been one of the state's largest schools for quite awhile. In the latest classification figures, they're second only to Bentonville with an enrollment of 2,269 (compared to Bryant's ninth largest figure of 1,683. Yet, the Wildcats have been unable to develop into the kind of powerhouse football program that Bentonville has become. Bolding, now in his fourth year, feels like his team and program may have turned a corner with that meeting after the loss to Conway.
"There's always been kind of a black cloud over North Little Rock that they've got all the talent in the world but can't seem to win those big games, blah, blah, blah, same old stuff," he said. "I told (the players) I'm sick and tired of hearing it. People in this community are tired of hearing that. And it's time we do something about it. Since then, it's been a joy to be around these guys and coach them. The team unity and just the coming together have been phenomenal. I haven't seen that since I coached at Greenwood in 2000."
Of course, the Hornets want to sidetrack that development one last time. With Bryant headed to the South and North Little Rock joining the East Conference for the next two-year classification cycle, this may be the last time the two cross paths for awhile except in post-season.

BRYANT HORNETS

2011 statistics, unofficial through 8 games

Score by quarters

BRYANT 59 98 40 84 — 281
Opponent 24 51 58 62 — 184
Team stats

Bryant Oppt

First downs 161 150
Rushes-yds 271-1,353 304-1,367
Passing yds 1,883 1,325
Passing 144-212-7 118-203-9
Fumbles-lost 10-5 17-6
Penalties-yds 56-510 68-538
INDIVIDUAL STATS

Rushing: Karon Dismuke 112-712, Jalen Bell 60-392, Ben Clark 21-128, Hayden Lessenberry 56-47, Dillon Winfrey 6-34, Caleb Thomas 6-34, Jacob Irby 3-23, Tyree Reese 2-8, Sawyer Nichols 1-(-3), Wesley Akers 2-(-8).
Passing (C-A-I-Y): Lessenberry 143-210-7-1,876 (15 TDs), Akers 1-2-0-7.
Receiving: Nichols 39-558, Winfrey 37-535, Hayden Daniel 31-400, Charles Henson 10-127, Dismuke 9-153, J.Bell 8-71, Austin Powell 4-19, Aaron Bell 2-18, Jacob Powell 1-6.
Scoring: Jace Denker 61 (8 fg {36, 28, 24, 47, 30, 26, 39, 31}, 34 of 35 PATs), Winfrey 54 (8 td-rec, 1 td-int.ret.), Dismuke 42 (7 td-run), Nichols 30 (5 td-rec), J.Bell 30 (5 td-r), Lessenberry 24 (4 td-r), Henson 6 (1 td-rec), Thomas 6 (1 td-r), Clark 12 (2 td-r), A.Bell 6 (1 td-ko ret), Daniel 6 (1 td-rec)