Editor's note: This is a regular feature profiling senior athletes at Bryant High School.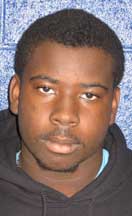 NAME: DeSean Prichett
PARENTS: Gloria Prichett
SIBLINGS: I have one brother and one sister. Victoria Clegg is 18 and my brother is Evan Clegg and he's 17.
FAVORITE SUBJECT IN SCHOOL: Math
WHAT DO YOU LIKE TO DO IN YOUR SPARE TIME? Probably play on-line Call of Duty.
FAVORITE FOOD: Pizza
FAVORITE MUSIC ARTIST OR GROUP: Young Money[more]
FAVORITE MOVIE: I don't have one.
FAVORITE TV SHOW: Two and a Half Men
WHAT WAS YOUR FAVORITE TOY AS A KID? Power Ranger action figures
WHAT ARE YOUR PLANS AFTER HIGH SCHOOL? To go to UCA and become a certified athletic trainer.
OTHER THAN YOUR PARENTS, WHO HAS HAD THE BIGGEST INFLUENCE ON YOUR LIFE? Coach (Paul) Calley probably. He's shown me how to become a better person and a better man in life.
FAVORITE THING ABOUT FOOTBALL: Winning
POSITION: Offensive line and d-line
WHAT DO YOU FEEL LIKE IS YOUR PRIMARY RESPONSIBILITY ON THE FIELD? On o-line I have to protect the quarterback and d-line it's to get to the quarterback.
WHAT DO YOU THINK OF THE SEASON SO FAR? I think we've had a pretty good season. I think we can go on and move into the third round maybe. Hopefully be the first team to be in the third round of the playoffs at Bryant.
WHAT'S BEEN THE KEY TO INTO THE TEAM'S SUCCESS THIS YEAR? Everybody sticking together, the brotherhood that we've got.
WHAT'S BEEN THE HIGHLIGHT TO THE SEASON SO FAR? Probably when we beat Conway.
WHAT'S IT GOING TO TAKE FOR THE TEAM TO BE SUCCESSFUL IN THE PLAYOFFS? It's going to take us executing all four quarters of every game.
INDIVIDUALLY, WHAT ABOUT YOUR GAME ARE YOU MOST CONFIDENT ABOUT? On d-line, to read my keys. On offense, I don't really know. I just started offense.
WHAT DO YOU WORK HARDEST TO IMPROVE? I working on reading my keys and getting the plays down on offense.
AFTER YOU'RE THROUGH PLAYING FOOTBALL AT BHS, WHAT DO YOU THINK YOU'LL REMEMBER MOST FONDLY ABOUT IT? Probably off-season.