By Rob Patrick
Photos by Kevin Nagle
Perhaps the most important thing that happened to the Bryant Lady Hornets on Tuesday night — besides[more] winning 56-42 over the West Memphis Lady Blue Devils — came in the third quarter. With 4:42 left in the period, Kiara Moore, the team's lone returning starter, picked up her fourth foul. It came just moments after she'd hit a 3-point shot to give her team a 28-14 lead.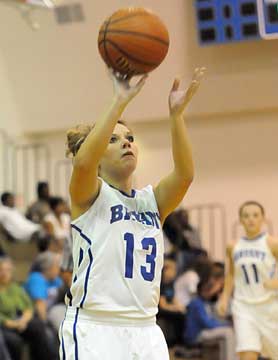 Moore went to the bench and head coach Brad Matthews was able to keep her there for the rest of the quarter and three minutes into the fourth while his team maintained a lead.
Sparked by physical 6-2 post player Kierra Adams, the Lady Devils whittled on the margin, pulling within 3 but could get no closer. And when Moore returned at the 5:01 mark of the fourth quarter, the Lady Hornets put together a 17-4 blitz to put the pre-season benefit game away.
"When they made their run, I thought we could've folded and we didn't," Matthews stated. "I thought that showed a little bit of character. Hopefully, we can build upon that and get some confidence.
"Kiara's got to stay out of foul trouble," he added. "But we have some kids that are extremely capable. Logan Davis and Callie Hogancamp and Dezerea Duckworth, our sophomore — they're more than capable of being really good players. They've just never been asked to the play the roles that they're playing now.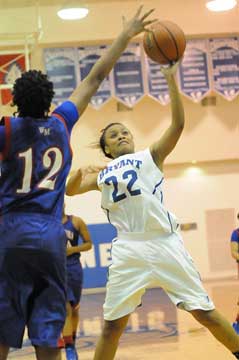 "We have so many kids playing new roles," explained the coach. "As the season goes on and they get a little more comfortable with their roles, a little bit more comfortable with me and what to expect, how the games need to go, we'll be a little bit sharper than we were this first night."
With all due respect, Matthews' charges were pretty sharp for a first game. They forced 28 turnovers and, though they were 16 of 42 (38 percent) from the field, they converted 20 of 27 free throws.
"I think our kids played hard and competed," he commented. "That's got to be a given every night out and tonight I was pleased with our effort. We've got to do a lot better job executing, a lot better job rebounding. We're going to be out-sized a lot of nights so we've got to do a better job fundamentally, finding kids and keeping them off the boards."
The Lady Blue Devils won the battle of the boards, 37-26 including 14 rebounds on the offensive end.
"They had dominating post kids, big kids," Matthews acknowledged. "They've got three or four over six-foot. We've got to deal with that. That's the way it's going to be. We've got to have our bigs do a better job of keeping their bigs off the boards."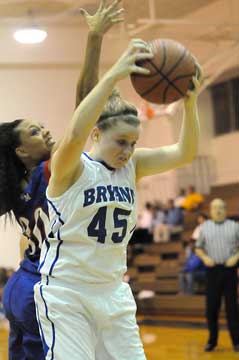 Adams finished with 19 points and nine boards. Jasmine Patterson had 9 points for West Memphis.
Moore finished with 23 points with Duckworth, in her high school debut, adding 18. Hogancamp pitched in with 8 including a pair of threes. Haley Murphy, Whitney Meyer and Taneasha Rhode each had four rebounds for the Lady Hornets.
It took a while for Bryant to get going. In fact, the game was 4:30 minutes old before Hogancamp broke the ice with her first triple. The good news was that West Memphis, plagued by nine first-quarter turnovers, had only built a 4-0 lead by that time. So when Moore hit a short jumper down the baseline, Bryant had the lead with 2:04 left in the period.
Cora Winn, another of those 6-footers for West Memphis, hit a pair of free throws to put here team up 6-5 but when Moore drained a 3, the Lady Hornets were ahead to stay. She followed with a steal that led to a trip to the free-throw line, making it 9-6 going into the second quarter.
Duckworth made a steal and, after giving it up to Moore, got it back for a bucket to start the second quarter. Winn answered with 6:59 left in the half but that proved to be the last field goal of the half for the Lady Devils. Moore fed Rhode for a bucket, which started an 8-2 run to finish the half, capped by a steal and layup by Duckworth. Bryant led 19-10 at the break.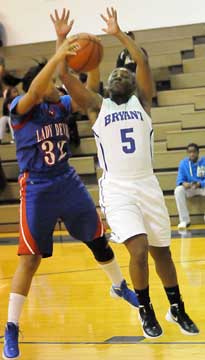 Adams scored 10 her points in the third quarter including the first two baskets of the half. But Davis knocked down a driving jumper to get the Lady Hornets going. Moore made a steal and two free throws to make it 23-14. Meyer swiped a pass and Moore hit two more free throws before her 3 doubled up the Lady Devils just before she picked up her fourth foul.
Winn's basket was trumped by Hogancamp's second 3. Davis made a steal and hit a free throw to give the Lady Hornets their largest lead of the game, 32-16.
At that point, Adams started getting the ball nearly every possession for West Memphis and the Lady Devils began to whittle on the lead. Still, thanks to two free throws and a basket by Duckworth, Bryant still led by 10, 36-26, going into the fourth quarter.
Adams scored inside and, moments later, stepped outside to drill a 3, however. Hogancamp banked in a jumper but, by the 5:16 mark, Bryant's lead was down to 39-36. West Memphis had chances to get closer but Adams and Leanza Perry both missed twice at the free throw line.
"(Adams) is a stud," Matthews said. "There was that spurt — too much of a spurt — in the third, fourth quarter for about eight or 10 possessions, I thought she dominated the game. That's something we were prepared for. It wasn't like 'Oh, she's a good player.' We worked on it for three or four practices. Of course, working on it in practice is totally different than guarding her. She's a tremendous player. She's a big-time college kid.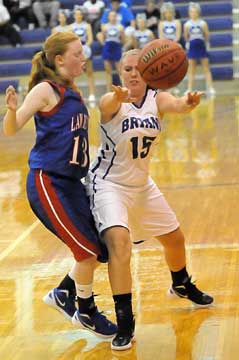 "I thought for three-fourths of the game, we did a decent job on her. It's just that, against players that big and that good, you cannot let them get their feel," he added. "You can't let them get into a rhythm. We had some defensive breakdowns but that's the first game. Hopefully we'll correct our execution offensively and defensively as we move forward."
Moore returned but initially had a shot swatted away by Patterson. Off the inbounds play, however, she scored off a feed from Murphy. After a miss by Patterson at the other end, Moore fed Duckworth for an eight-footer.
The Lady Hornets began to gradually pull away. Free throws by Brittney Ball and Moore had the lead back to double digits with 2:35 left to play. Duckworth then scored the last 7 points for Bryant. The Lady Hornets matched their largest lead at 56-40 before Patterson scored in the final seconds to set the final margin.
The Lady Hornets make their official debut on Thursday, Nov. 17, at Sheridan.