By Rob Patrick
Photos by Kevin Nagle
Last spring, the West Memphis Blue Devils finished in sixth place in the[more] rugged 7A/6A-East Conference and just barely made the Class 7A State Tournament. But then they put together a run that led to the championship game. (As it turned out, the two finalists in both 7A and 6A came from the East.)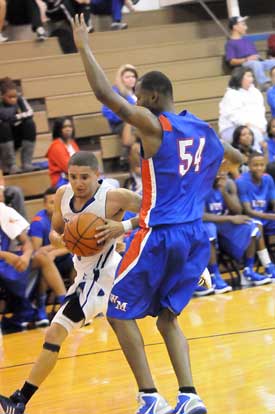 The stunning run ended when East champion Little Rock Hall prevailed for the 7A crown.
The Blue Devils are a better team this season.
The Bryant Hornets found that out first hand on Tuesday night. Head coach Mike Abrahamson probably couldn't have found a sterner test for his team to play in its pre-season benefit game Tuesday night. West Memphis, even without its best player, a 6-5 Division I college prospect named Jalen Jackson, could be the best team the Hornets face all season.
It was a tough match-up for Bryant. With seven players between 6-3 and 6-7 (mostly 6-3), this is a relatively tall Hornets team by recent standards. Still, Abrahamson has acknowledged it's a guard-heavy team. West Memphis, however, boasts five players between 6-5 and 6-9 (not counting Jackson) and dominated the boards, 41-26, on the way to a 58-41 win.
Yet, with 3:22 left in the game, Bryant trailed the deep, talented Devils just 44-36, thanks in large part to a 26-point performance by senior Jordan Griffin.
"West Memphis is very good and they made us not play well," Abrahamson commented. "They're very impressive.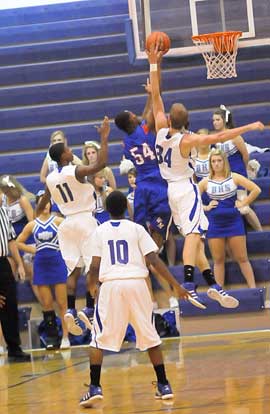 "We were down eight in the fourth quarter and it looked like, by our body language, we were down 28," he added. "I'm disappointed in that.
"We don't have selfish players on our team but we sure looked like it tonight," the coach commented. "I don't think that the way we played tonight provides an accurate portrait of who we are. I told them I'm going to put extreme pressure on them until we play (Fort Smith) Southside and try to create an environment that is very difficult so that we'll grow."
The Hornets' official season-opener is Thursday, Nov. 17, at Southside.
West Memphis played all 14 players it had dressed out Tuesday. Bryant got in 13 of its 15. Willie Atwood, a 6-7 forward, led the Devils with 17 points and seven rebounds. Guard Lattrell Cunningham added 12 points and 10 players contributed to the scoring. Besides Griffin, Bryant had no one with more than Brantley Cozart's 6 points.
Though the Hornets were just 8 of 41 from the field (20 percent) with a lot of the misses coming on drives to the basket that ended with shots being blocked or altered, they were able to get to the free-throw line where their 20 for 25 performance helped them keep up.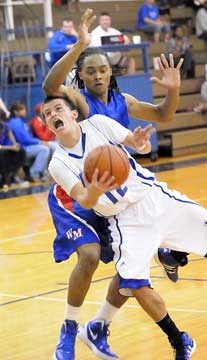 But working against those bigs of West Memphis, the Hornets got into early foul trouble. The Devils wound up going 19 of 30 from the line in the foul-plagued contest.
"We can't commit seven fouls in the first quarter and put them in the bonus early in the game," Abrahamson acknowledged. "And that makes us have to play two sophomore post players that may not be ready against men."
The Hornets led early on a reverse layup by Quinton Motto and the first of Griffin's four 3-pointers. But that's when Bryant hit a cold spell, going six minutes without adding to its five points. West Memphis gradually put together an 11-0 run before Griffin hit two free throws in the final seconds of the first quarter to make it 13-7 going into the second.
And with Griffin's three-point play to start the new stanza, the Hornets were within 3.
The teams began to trade surges. It was 18-10 before free throws by Griffin and Cozart cut it to 18-14. After West Memphis' Christian Carson missed twice at the line, Cozart knocked down a 3 to pull the Hornets within 18-17 with 4:50 left in the half.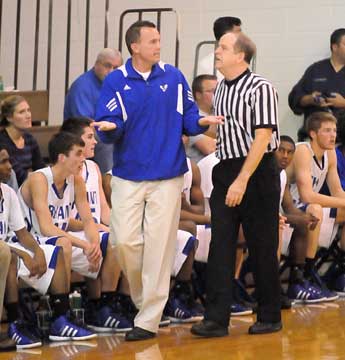 They just couldn't regain the lead. Free throws by sophomore Anthony Black kept the Hornets within 24-21 going into the final minute but Atwood hit a driving layup and Cunningham nailed a trey to push the lead to 8. Griffin was fouled just before the buzzer and trimmed it to 29-23 at the break.
The Devils pushed the lead to 37-23 before Griffin hit a pair of 3's to keep the Hornets within 10. It was 41-29 going into the fourth quarter. Bryant kept hanging around. Free throws by Mitch Scoggins and a baseline jumper by Leon Neale answered West Memphis baskets and when Griffin nailed his final triple at 3:22, the Hornets were within 44-36.
Bryant managed just four free throws the rest of the game, however and, sparked by a dunk by Atwood, the Devils put the game away.