Editor's note: This is a regular feature profiling senior athletes at Bryant High School.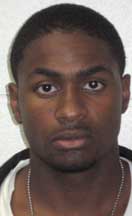 NAME: Travis Royal
PARENTS: Felicia Butler and Quinton Royal
SIBLINGS: I have two sisters and one brother that stay with me. I've got a little sister named Tyanna Robinson. She's 10. I have a little brother named Quinton Royal. He's 13. I've got a sister named Alexis Royal. She's 16.
FAVORITE SUBJECT IN SCHOOL: Math
WHAT DO YOU LIKE TO DO IN YOUR SPARE TIME? Either hang out with friends or play video games
FAVORITE FOOD: Hot wings[more]
FAVORITE MUSIC ARTIST OR GROUP: Li'l Wayne
FAVORITE MOVIE: Cloudy with a Chance of Meatballs
FAVORITE TV SHOW: Jimmy Neutron
WHAT WAS YOUR FAVORITE TOY AS A KID? My fire truck, big old fire truck.
WHAT ARE YOUR PLANS AFTER HIGH SCHOOL? Go to college and hopefully play ball. I'd like to go out of state. I just want to major in business.
OTHER THAN YOUR PARENTS, WHO HAS HAD THE BIGGEST INFLUENCE ON YOUR LIFE? My grandma. She's like my best friend. She talks to me about everything. She's cool.
FAVORITE THING ABOUT FOOTBALL: I like the intensity; how like it's going so fast. And the hitting. I like to hit. I like being physical.
POSITION: Safety
WHAT DO YOU FEEL LIKE IS YOUR PRIMARY RESPONSIBILITY ON THE FIELD? To make sure that the whole defense is on the same page and we're doing the right thing, and make sure I do my job too.
WHAT DO YOU THINK OF THE SEASON SO FAR? We're doing good. I knew we were going to struggle a little bit on offense but we're doing good if you ask me. And on defense, we're reading our keys and doing what we've got to do.
WHAT'S BEEN THE HIGHLIGHT TO THE SEASON SO FAR? So far, beating Conway again. That was a good game.
WHAT'S IT GOING TO TAKE FOR THE TEAM TO BE SUCCESSFUL IN THE PLAYOFFS? Focus, because we're already together. We're already a team. We've got to be focused.
INDIVIDUALLY, WHAT ABOUT YOUR GAME ARE YOU MOST CONFIDENT ABOUT? Making my calls and reading all my keys and just hustling. I feel comfortable, I'm not like new at this. I'm relaxed, more relaxed out there. I know what I'm doing.
WHAT DO YOU WORK HARDEST TO IMPROVE? Communicating. That's one of the hardest things because when the game's going, it's (snaps fingers) like that. So communicating, you've got to try to get it there.
AFTER YOU'RE THROUGH PLAYING FOOTBALL AT BHS, WHAT DO YOU THINK YOU'LL REMEMBER MOST FONDLY ABOUT IT? I'm going to remember the people up here because everybody tries to help you. I'm just going to remember the people and how they helped me become who I am today.