Editor's note: This is a regular feature profiling senior athletes at Bryant High School.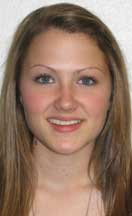 NAME: Grace Finley
PARENTS: Steve and Linda Finley
SIBLINGS: I have two older sisters, Sarah Finley and Jessica Ballew. Jessica's 25 and Sarah's 21.
FAVORITE SUBJECT IN SCHOOL: I like History a lot
WHAT DO YOU LIKE TO DO IN YOUR SPARE TIME? I run and I'm also on the photography staff on yearbook.
FAVORITE FOOD: I like fruit a lot.
FAVORITE MUSIC ARTIST OR GROUP: I like all kinds of music except for rap and hip-hop.[more]
FAVORITE MOVIE: I'm going to go with A Walk To Remember
FAVORITE TV SHOW: Boy Meets World
WHAT WAS YOUR FAVORITE TOY AS A KID? I don't know what they're called. You know those bouncy balls you hold with the handles. Or, I'll say, my bike.
WHAT ARE YOUR PLANS AFTER HIGH SCHOOL? I plan to go to Ouachita Baptist University. I'm hoping to run there and I want to major in Business.
OTHER THAN YOUR PARENTS, WHO HAS HAD THE BIGGEST INFLUENCE ON YOUR LIFE? I'm going to say my youth pastor's wife, Teresa Cunningham and my Sunday school teacher, Jordan Malone, just in my faith. Also my grandma Finley because she's a woman of faith as well.
FAVORITE THING ABOUT CROSS COUNTRY: The people and I like staying in shape. I like running. It's just something I've grown up around. My sisters ran too.
WHAT'S YOUR APPROACH TO A RACE (Strategy/Preparation)? I try not to get nervous. I try not to think about it up to race time. As far as preparing for it, I eat healthy, drink lots of water. Coach wants us to start out really fast and stay fast but I have to start slow and pick up my pace as the race goes otherwise I'll die throughout the race.
WHAT DO YOU THINK OF THE SEASON? It's not our best but I know we've tried our hardest. Coach did all he could for us so I guess it was up to us but, like I said, it hasn't been our best.
WHAT'S BEEN THE HIGHLIGHT TO THE SEASON? I guess our conference meet. It was a pretty big one. I was pretty excited about that, especially with it being my last race for my high school career. And I've had a lot of good friends throughout high school and cross country.
AFTER YOU'RE THROUGH RUNNING CROSS COUNTRY AT BHS, WHAT DO YOU THINK YOU'LL REMEMBER MOST FONDLY ABOUT IT? I'll definitely remember Coach (Danny) Westbrook and the discipline I learned throughout the sport. He put a lot into it so it kind of helps when we put a lot into it. There's a lot of disciplinary stuff that I've learned through it.