Editor's note: This is a regular feature profiling senior athletes at Bryant High School.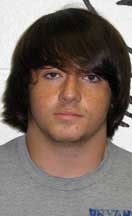 NAME: Kaden Mills
PARENTS: Shannon and Michelle Mills
SIBLINGS: I have one brother. He's 25. Two sisters, once goes to UCA. My brother's name is Chanden. My sister's 21 and her name's Kiersten Key and then I have a 19-year-old sister named Shalynn Mills.
FAVORITE SUBJECT IN SCHOOL: Math
WHAT DO YOU LIKE TO DO IN YOUR SPARE TIME? Hang out with friends, play video games, play a little two-hand touch football.
FAVORITE FOOD: Ribs
FAVORITE MUSIC ARTIST OR GROUP: I don't really have a favorite. I like rock.[more]
FAVORITE MOVIE: Too many to say. Probably Facing The Giants.
FAVORITE TV SHOW: Family Guy
WHAT WAS YOUR FAVORITE TOY AS A KID? Hot Wheels
WHAT ARE YOUR PLANS AFTER HIGH SCHOOL? I plan to go to UCA and either major in computer science or dentistry.
OTHER THAN YOUR PARENTS, WHO HAS HAD THE BIGGEST INFLUENCE ON YOUR LIFE? Probably my brother. He's taught me a lot about everything and he's always been there when I needed him. And he showed me how to play football and do good.
FAVORITE THING ABOUT FOOTBALL: Hitting people.
POSITION: I play d-tackle and a little bit of linebacker.
WHAT DO YOU FEEL LIKE IS YOUR PRIMARY RESPONSIBILITY ON THE FIELD? At d-tackle it's to keep the o-line off the linebackers and stay in my gap. At linebacker, it's to read keys and fill where I need to be.
WHAT DO YOU THINK OF THE SEASON SO FAR? I think we have surprised a lot of people. We came in as the underdogs and now we're ahead of everybody. Hopefully, we'll keep it that way.
WHEN THE TEAM'S DOING WELL, WHAT'S IT DOING? Everybody's just playing as a whole. They're not playing individually. They're all reading their keys and doing what they need to do like a brotherhood.
WHAT'S BEEN THE HIGHLIGHT TO THE SEASON SO FAR? Probably Conway because everybody didn't believe we could be them and we showed everybody.
WHAT'S IT GOING TO TAKE FOR THE TEAM TO BE SUCCESSFUL THE REST OF THE SEASON? I think everybody needs to focus a little bit better and try as hard as they can, give 100 percent and not play for themselves, play for the team.
INDIVIDUALLY, WHAT ABOUT YOUR GAME ARE YOU MOST CONFIDENT ABOUT? Reading the offense and knowing which way the ball's going and being where I need to be.
WHAT DO YOU WORK HARDEST TO IMPROVE? To get better at d-tackle because this is the first year that I've started playing there and I try my hardest at that every day to get better.
AFTER YOU'RE THROUGH PLAYING FOOTBALL AT BHS, WHAT DO YOU THINK YOU'LL REMEMBER MOST FONDLY ABOUT IT? That I had a lot of fun. I'll probably wish that I'd be able to do it again. It was fun.