By Rob Patrick
Photos by Rick Nation and Kevin Nagle
Figuring that his team might not receive the benefit of the turnovers that others had garnered to[more] help them beat the Cabot Panthers, Bryant head coach Paul Calley said before the last Friday's game that his Hornets needed to make Cabot punt at least twice. He also mentioned that his team couldn't afford to turn the ball over.
As it turned out, the Panthers punted four times yet the Hornets turned it over twice and surrendered an onside kick. Bryant wound up having to put together a long drive in the final two minutes and survive with a victory on a 31-yard field goal by Jace Denker, 31-28.
"It was everything that I expected," Calley said as reflected on the contest Monday. "I knew it was going to be tough. I knew they wouldn't make many mistakes and when they play keep-away and they score, it makes it very difficult. You have to make every possession count. We tried an onside kick to try to get an extra possession.
"We just had enough time at the end to pull it out," he acknowledged. "I was proud of the kids for being able to go 90 yards in about two minutes and get Jace in field goal range."
And he concluded, "It just feels good to be 7-1 right now."
With that overall record, the Hornets have won six in a row and produced a 5-0 record that has them leading in the 7A/6A-Central Conference going into a showdown with North Little Rock this week. The Charging Wildcats are one of two teams tied at 4-1 on the Hornets' heels, with designs on producing a three-way tie for first with a win at home this Friday.
Calley admitted that it's a pleasant surprise, considering his team's inexperience, that it's 7-1 to date and in the hunt for not only another league championship but the conference's top seed for the Class 7A State playoffs.
"It's been a combination of coachable kids, good coaches, opportunistic plays on our part and having enough skill people and speed to be able to make plays when we have to," he explained. "We're doing enough in the offensive line, doing enough in the defensive line to allow us to win. We're not nearly as overpowering as we have been in the past but the good mix of skill people that we have has been the big difference."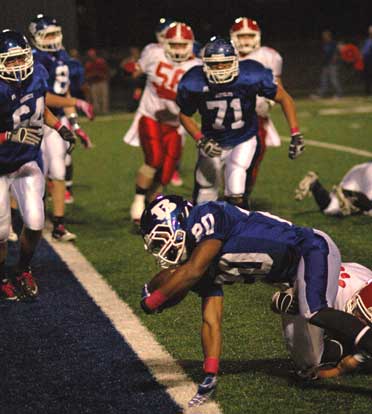 The Hornets fell behind initially just as they did in their 31-28 win over Conway the previous week.
"We seem to play better when we're behind," Calley observed. "We have throughout the year."
Falling behind Cabot, however, has always been something teams want to avoid. The Panthers, running their unique dead-T, keeping it on the ground, shortening the game, limiting an opponents' opportunities. The Hornets did indeed miss some opportunities, something that had Calley worried.
"We get the opening possession at the 50-yard line," he recalled. "We need to do something with it. That's a possession they gave us and we did nothing with it."
In fact, the series ended with an interception that led to Cabot's initial scoring drive.
"The part of the game that hurt me the most, that was the most disappointing, two series," he related. "One when we're up 28-14 with the ball and we end up losing 25 yards and that gave them the momentum back."
After taking that 28-14 lead, the Hornets had forced one of those Cabot punts on a three-and-out. Regaining possession at their own 29, they had a snap snafu that lost 19 yards (though they were able to retain possession of the loose ball) then a running play lost 5 more. Bryant punted and Cabot had a short field to begin a scoring drive, sparking the comeback.
"Then we have another drive going," Calley recounted. "We have third and medium and we call a home run play. They (Cabot's defensive backs) don't bite on it and it's not there and we just threw it up."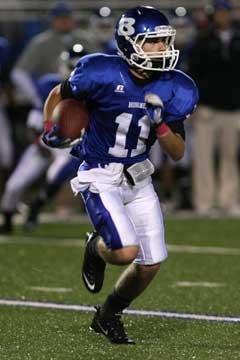 The result was the Panthers' second interception which started the drive for the tying touchdown.
"Those hurt because, when you have opportunities, you have to take advantage of them, especially if you're in field goal range or you have the momentum, you've got to make things happen," the coach reiterated. "And against good teams later on in the year, you can't make those kind of errors and expect to win. Luckily, we did but you have to look at the overall picture and there's some things we've got to do better. Hopefully, we will."
And, looking ahead to this week's challenge, Calley quickly added, "We've got to.
"They're so athletic," he said of the Charging Wildcats. "I think what we'll see this Friday night is probably just how athletic they are. They're hard to block. They're hard to tackle and it's going to take a near perfect game from us just to be in it at the end. We're going to have to do everything right to win."
A win would clinch at least a share of another conference title for the Hornets and probably secure a first-round bye and a second-round home game in the playoffs, though a No. 1 seed would probably still come down to a victory over Little Rock Central in the regular-season finale and/or the success of West Memphis in the East the last two weeks.
The Blue Devils are tied for the East Conference lead at this point and, as was the case last season, will be seeded among the Central teams for the playoffs, possibly stealing the top seed.
Calley, of course, isn't worried about that as much as he's intent on getting the most out of his team and letting the chips fall where they may.
More about the game with North Little Rock will be posted later in the week.