Editor's note: This is a regular feature profiling senior athletes at Bryant High School.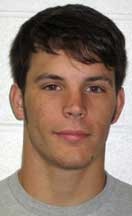 NAME: Parker Dunn
PARENTS: Chris Dunn and Roxanne Whitesides
SIBLINGS: I have one sister. Her name is Jordan Dunn and she's my twin.
FAVORITE SUBJECT IN SCHOOL: Math
WHAT DO YOU LIKE TO DO IN YOUR SPARE TIME? Just hang out with my friends
FAVORITE FOOD: My dad's steak
FAVORITE MUSIC ARTIST OR GROUP: I really just kind of like country and all kinds[more]
FAVORITE MOVIE: I really don't have one
FAVORITE TV SHOW: It used to be Two and a Half Men but it's not as good now.
WHAT WAS YOUR FAVORITE TOY AS A KID? A football
WHAT ARE YOUR PLANS AFTER HIGH SCHOOL? I'm going to go to college at the U of A, Biology major.
OTHER THAN YOUR PARENTS, WHO HAS HAD THE BIGGEST INFLUENCE ON YOUR LIFE? Probably my grandpa. I've always looked up to him because he's always done right and he's just always been there for me.
FAVORITE THING ABOUT FOOTBALL: Just being a team, being one unit all working together.
POSITION: Linebacker
WHAT DO YOU FEEL LIKE IS YOUR PRIMARY RESPONSIBILITY ON THE FIELD? Just do pretty much anything I can to help the team.
WHAT DO YOU THINK OF THE SEASON SO FAR? I think that we can be really good. I think we have a chance to win conference, and maybe even go on and win State.
WHEN THE TEAM'S DOING WELL, WHAT'S IT DOING? Just executing good, making tackles and the offense is moving the ball.
WHAT'S BEEN THE HIGHLIGHT TO THE SEASON SO FAR? Probably the win over Catholic; all of our wins really.
WHAT'S IT GOING TO TAKE FOR THE TEAM TO BE SUCCESSFUL THE REST OF THE SEASON? Just executing and everybody playing hard and to the best of their capability.
INDIVIDUALLY, WHAT ABOUT YOUR GAME ARE YOU MOST CONFIDENT ABOUT? I don't know. I really just try to help the team as much as I can. There's like no certain thing that I do really.
WHAT DO YOU WORK HARDEST TO IMPROVE? Just everything, all around.
AFTER YOU'RE THROUGH PLAYING FOOTBALL AT BHS, WHAT DO YOU THINK YOU'LL REMEMBER MOST FONDLY ABOUT IT? Just being a part of the team and a brotherhood.