Editor's note: This is a regular feature profiling senior athletes at Bryant High School.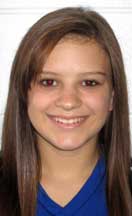 NAME: Taylor West
PARENTS: Kirk and Cindy West
SIBLINGS: I have two brothers, Chris and Ryan. Chris is 28 and Ryan is 14.
FAVORITE SUBJECT IN SCHOOL: Science
WHAT DO YOU LIKE TO DO IN YOUR SPARE TIME? Play volleyball.
FAVORITE FOOD: Anything pasta
FAVORITE MUSIC ARTIST OR GROUP: Motion City Soundtrack[more]
FAVORITE MOVIE: Finding Nemo
FAVORITE TV SHOW: Scrubs
WHAT WAS YOUR FAVORITE TOY AS A KID? My bike
WHAT ARE YOUR PLANS AFTER HIGH SCHOOL? I'm going to go to college and, hopefully, play volleyball. I'm going to major in Biology.
OTHER THAN YOUR PARENTS, WHO HAS HAD THE BIGGEST INFLUENCE ON YOUR LIFE? I would have to say my volleyball coaches throughout the years because they've really taught me how to be a leader and take more of a leadership role in my life.
FAVORITE THING ABOUT VOLLEYBALL: Passing.
POSITION: I'm a passer.
WHAT DO YOU FEEL LIKE IS YOUR PRIMARY RESPONSIBILITY ON THE COURT? I kind of cover everybody else and make sure that, if they miss a ball, then I'm there.
WHAT DO YOU THINK OF THE SEASON SO FAR? I think it's going really good and I think the second half of the season, it's just going to get better.
WHEN THE TEAM'S PLAYING WELL, WHAT'S IT DOING? We're all cheering. We're kind of goofing — not goofing around but kind of joking with each other and having a lot of fun with each other.
WHAT'S BEEN THE HIGHLIGHT TO THE SEASON SO FAR? I would have to say, so far, just coming together as a team, getting to watch everybody become friends.
WHAT'S IT GOING TO TAKE FOR THE TEAM TO BE SUCCESSFUL IN THE PLAYOFFS? Just keep playing the way that we did last week. We played our two hardest teams and we played really well. So, I think if we can continue that then we'll be real successful the second half of the season.
INDIVIDUALLY, WHAT ABOUT YOUR GAME ARE YOU MOST CONFIDENT ABOUT? Serve receive. That's probably my best thing.
WHAT DO YOU WORK HARDEST TO IMPROVE? My serving and free-ball passing.
AFTER YOU'RE THROUGH PLAYING VOLLEYBALL AT BHS, WHAT DO YOU THINK YOU'LL REMEMBER MOST FONDLY ABOUT IT? Definitely my teammates. We definitely get really close during the season and it's hard to forget. It's cool.