Editor's note: This is a regular feature profiling senior athletes at Bryant High School.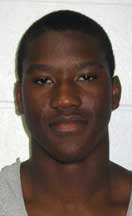 NAME: Walter Dunn
PARENTS: My mom's name is Carla Dunn. My dad's name is Walter Dunn
SIBLINGS: I've got three brothers and two sisters. My younger brother is Rodriques Dunn. He's 16. My younger sister is Shantaria Dunn. She's 11. My older brother is Devin Dunn. He's 28. The oldest of all of us is my other brother. He's 30. My other sister is Laticia Dunn.
FAVORITE SUBJECT IN SCHOOL: Math
WHAT DO YOU LIKE TO DO IN YOUR SPARE TIME? Watch TV, watch football.[more]
FAVORITE FOOD: Chicken
FAVORITE MUSIC ARTIST OR GROUP: Li'l Wayne, I guess.
FAVORITE MOVIE: Remember The Titans
FAVORITE TV SHOW: I guess, Meet the Browns.
WHAT WAS YOUR FAVORITE TOY AS A KID? A race car, something like that.
WHAT ARE YOUR PLANS AFTER HIGH SCHOOL? Computer science, go to college for computer science.
OTHER THAN YOUR PARENTS, WHO HAS HAD THE BIGGEST INFLUENCE ON YOUR LIFE? My brother. He's shown me the way of life.
FAVORITE THING ABOUT FOOTBALL: Tackling.
POSITION: Linebacker
WHAT DO YOU FEEL LIKE IS YOUR PRIMARY RESPONSIBILITY ON THE FIELD? Basically, don't let the offense get behind you. Don't let them score.
WHAT DO YOU THINK OF THE SEASON SO FAR? It's pretty good. I think we can go all the way.
WHEN THE TEAM'S DOING WELL, WHAT'S IT DOING? Offense is doing what they're supposed to do and the defense is doing what they're supposed to do.
WHAT'S BEEN THE HIGHLIGHT TO THE SEASON SO FAR? Us taking care of Van Buren because everybody was thinking that we could've possibly had a letdown like in previous years and not play as well as we should.
WHAT'S IT GOING TO TAKE FOR THE TEAM TO BE SUCCESSFUL THE REST OF THE SEASON? Stay focused, overcome being a young team and play everybody like it could be our last game.
INDIVIDUALLY, WHAT ABOUT YOUR GAME ARE YOU MOST CONFIDENT ABOUT? Basically attacking and following the ball.WHAT DO YOU WORK HARDEST TO IMPROVE? When I get to the ball I want to make sure I make a sure tackle.
AFTER YOU'RE THROUGH PLAYING FOOTBALL AT BHS, WHAT DO YOU THINK YOU'LL REMEMBER MOST FONDLY ABOUT IT? My senior year and having my parents watch me play especially my mom because she'd never seen me play a varsity game.