Editor's note: This is a regular feature profiling senior athletes at Bryant High School.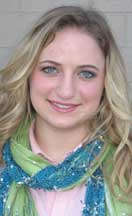 NAME: Alise Heavrin
PARENTS: Jimmy and Deanna Heavrin
SIBLINGS: Lauren Heavrin, 24
FAVORITE SUBJECT IN SCHOOL: Math
FAVORITE SPARE TIME ACTIVITY: Diving
FAVORITE FOOD: Peanut butter and Nutella
FAVORITE MUSIC ARTIST OR GROUP: The Band Perry
FAVORITE MOVIE: Red Line[more]
FAVORITE TV SHOW: Bones
WHAT WAS YOUR FAVORITE TOY WHEN YOU WERE A KID? My books
WHAT ARE YOUR PLANS AFTER HIGH SCHOOL? Harding University; either Neurology or Engineering
OTHER THAN YOUR PARENTS, WHO'S HAD THE BIGGEST INFLUENCE ON YOUR LIFE? HOW? It's not one person so much as it is my church. My church is small so everyone is really close and we always do our best to encourage one another in school and life and sports. They help to keep me going.
WHAT'S YOUR FAVORITE THING ABOUT DIVING? The awesome feeling when you do a great dive or get a new one.
EVENT: I dive and my favorite dive is my back somersault with a one-and-a-half twist.
APPROACH TO YOUR EVENT? I approach a dive with a clear mind, no stress, and each dive should not reflect the last (unless the last one was perfect).
WHAT DO YOU THINK OF THE SEASON SO FAR? The season has been a lot of fun and very encouraging with so many divers to practice and dive against.
WHAT'S BEEN THE HIGHLIGHT TO THE SEASON SO FAR (team)? When my friend Courtney did her reverse dive in the Henderson dive meet for the first time and completed the dive I was so excited for her and it took everything I had not to jump up and down and scream since another diver was on the board.
WHAT'S BEEN THE HIGHLIGHT TO THE SEASON SO FAR (personal)? When I did the best back somersault one-and-a-half twice almost perfect in competition.
WHAT'S IT GOING TO TAKE FOR THE TEAM TO BE SUCCESSFUL THE REST OF THE SEASON? Eveyrone doing their best and encouraging one another.
TALK ABOUT YOUR DIVING NOW; WHAT ARE YOU MOST CONFIDENT IN YOUR ABILITY TO DO? I know I can do all of my dives and place in the top three in competition.
WHAT DO YOU WORK HARDEST TO IMPROVE ON IN PRACTICE? I not only work on new dives but I also work to try to perfect the dives I already have. I say try to perfect because there is no such thing as perfect in diving.
WHEN YOU'RE THROUGH DIVING FOR BRYANT HIGH SCHOOL, WHAT DO YOU THINK YOU'LL LOOK BACK AND REMEMBER MOST FONDLY ABOUT THE EXPERIENCE? It won't be placing that I will be as fond about, but more of the friendships I have made not only with my teammates but also the other schools' divers. We may be competing individually but we all know what it feels like to splat or do well, so most everyone tries to encourage everyone else no matter the team.