The Bryant Lady Hornets will be hosting the Class 7A State Tournament beginning Thursday, May 10. For brackets, go here.
Editor's note: This is a regular feature profiling senior athletes at Bryant High School.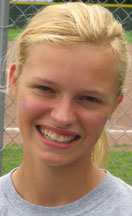 NAME: Ashlyn Lessenberry
PARENTS: J'Ann Boyd and Lee Lessenberry
SIBLINGS: I have four, Bailey is 17, Hayden is 16 and Lauren 13 and Ryan is 11.
FAVORITE SUBJECT IN SCHOOL: Math

WHAT DO YOU LIKE TO DO IN YOUR SPARE TIME? Sleep
FAVORITE FOOD: Chicken
FAVORITE MUSIC ARTIST OR GROUP: Adele
FAVORITE MOVIE: Burlesque[more]
FAVORITE TV SHOW: Pretty Little Lies and Secret Life
WHAT WAS YOUR FAVORITE TOY AS A KID? A bat and a ball.
WHAT ARE YOUR PLANS AFTER HIGH SCHOOL? I'm going to Henderson to run cross country and I'm going to major in Early Childhood Education.
OTHER THAN YOUR PARENTS, WHO HAS HAD THE BIGGEST INFLUENCE ON YOUR LIFE? My grandma; she was always there for me and she helped me through anything I needed. I could always talk to her.
FAVORITE THING ABOUT SOFTBALL: It's fun. It lets me get everything off my mind and just have fun.
POSITION: Outfield
WHAT'S YOUR APPROACH AT THE PLATE? Just to take every opportunity and hit the ball.
WHAT'S YOUR APPROACH IN THE FIELD? Just to stop every ball, if I don't catch it, make sure I keep it in front of me.
WHAT DO YOU THINK OF THE SEASON SO FAR? I think it's gone good. We've stayed focused and we're doing really well.
WHEN THE TEAM'S PLAYING WELL, WHY? We're all clicking, we'll all having fun. We're focused and we're just in the game.
WHAT'S BEEN THE HIGHLIGHT TO THE SEASON SO FAR? Being undefeated and the Van Buren tournament.
WHAT'S IT GOING TO TAKE FOR THE TEAM TO BE SUCCESSFUL AT STATE? We have to stay focused. We can't get ahead of ourselves. We can't get a big head because on any given day any team can be beat. So we just have to stay focused.
TALK ABOUT YOUR GAME. WHAT ARE YOU MOST CONFIDENT IN YOUR ABILITY TO DO? Hitting.
WHAT DO YOU WORK HARDEST IN PRACTICE TO IMPROVE ON? Catching pop flies.
AFTER YOU'RE THROUGH PLAYING SOFTBALL AT BHS, WHAT DO YOU THINK YOU'LL REMEMBER MOST FONDLY ABOUT IT? All the girls that I've played with and, so far, the two State championships we've won.