Editor's note: This is a regular feature profiling senior athletes at Bryant High School.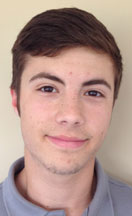 NAME: Austin Caldwell
PARENTS: Mark Caldwell
SIBLINGS: None
FAVORITE SUBJECT IN SCHOOL: Science
WHAT DO YOU LIKE TO DO IN YOUR SPARE TIME? Hang out with friends.
FAVORITE FOOD: Mexican
FAVORITE MUSIC ARTIST OR GROUP: Rap
FAVORITE MOVIE: Friday[more]
FAVORITE TV SHOW: The Voice
WHAT WAS YOUR FAVORITE TOY AS A KID? Buzz Lightyear
WHAT ARE YOUR PLANS AFTER HIGH SCHOOL? Go to college and play baseball. I'd like to go to Fort Smith.
OTHER THAN YOUR PARENTS, WHO HAS HAD THE BIGGEST INFLUENCE ON YOUR LIFE? My grandma, just because she's always been there for me. She's been like a mother figure.
FAVORITE THING ABOUT BASEBALL: Just being with my friends and being able to play the game.
POSITIONS: Left field
WHAT'S YOUR APPROACH AT THE PLATE? Don't strike out.
WHAT'S YOUR APPROACH IN THE FIELD? Catch everything that's hit to me.
WHAT DO YOU THINK OF THE SEASON SO FAR? I think it's going good. We're going to win State. We have the right approach when we come to the dish.
WHAT'S BEEN THE HIGHLIGHT TO THE SEASON SO FAR? Batting.
WHAT'S IT GOING TO TAKE FOR THE TEAM TO BE SUCCESSFUL THE REST OF THE SEASON? To keep hitting against all these good teams with good pitchers.
TALK ABOUT YOUR GAME: WHAT DO YOU FEEL MOST CONFIDENT IN YOUR ABILITY TO DO? Hitting
WHAT DO YOU WORK HARDEST TO IMPROVE ON IN PRACTICE? Hitting.
AFTER YOU'RE THROUGH PLAYING BASEBALL AT BHS, WHAT DO YOU THINK YOU'LL REMEMBER MOST FONDLY ABOUT IT? Winning State, junior year.