Editor's note: This is a regular feature profiling senior athletes at Bryant High School.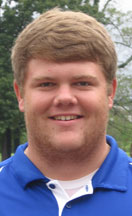 NAME: Austin Harmon
PARENTS' NAMES: Linda and Roger Harmon

SIBLINGS: Tanner and Tayler Harmon. Both 14 years old

FAVORITE SUBJECT IN SCHOOL: English

FAVORITE SPARE TIME ACTIVITY: Going fishing and hanging out with friends

FAVORITE FOOD: Sandwiches
FAVORITE MUSIC ARTIST OR GROUP: A$AP Rocky and The Weeknd
FAVORITE MOVIE: Shooter[more]
FAVORITE TV SHOW: ESPN
FAVORITE TOY WHEN YOU WERE A LITTLE KID: Woody from toy story
WHAT ARE YOUR PLANS AFTER HIGH SCHOOL? Go to college and play golf.
OTHER THAN YOUR PARENTS, WHO'S HAD THE BIGGEST INFLUENCE ON YOUR LIFE? HOW?
My grandpa because he taught me so much. He was a great mentor.
WHAT'S YOUR FAVORITE THING ABOUT GOLF? It's so peaceful and it's just where I can get time to myself.
WHAT DO YOU THINK OF THE SEASON SO FAR? It's going good.
WHAT'S BEEN THE HIGHLIGHT TO THE SEASON SO FAR? I've won the past 5 tournaments.
WHAT'S IT GOING TO TAKE FOR THE TEAM TO BE SUCCESSFUL THE REST OF THE WAY? We all have to shoot in the 70's
TALK ABOUT YOUR GAME NOW; WHAT ARE YOU MOST CONFIDENT IN YOUR ABILITY TO DO? Making putts when it counts.
WHAT DO YOU WORK HARDEST TO IMPROVE ON IN PRACTICE? My short game.
WHEN YOU'RE THROUGH PLAYING GOLF FOR BRYANT HIGH SCHOOL, WHAT DO YOU THINK YOU'LL LOOK BACK AND REMEMBER MOST FONDLY ABOUT THE EXPERIENCE?
It was really fun.