Editor's note: This is a regular feature profiling senior athletes at Bryant High School.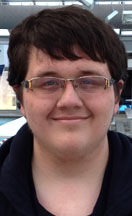 NAME: Austin Sanchez
PARENTS: Jay and Donna Sanchez
SIBLINGS: None
FAVORITE SUBJECT IN SCHOOL: Any of the family consumer science classes.
FAVORITE SPARE TIME ACTIVITY: Singing obnoxiously.
FAVORITE FOOD: Pepperoni pizza
FAVORITE MOVIE: My favorite band right now is Hollywood Undead.
FAVORITE TV SHOW: Star Wars Episode 3, Revenge of the Sith[more]
WHAT WAS YOUR FAVORITE TOY WHEN YOU WERE A KID? A box of any size.
WHAT ARE YOUR PLANS AFTER HIGH SCHOOL? Going to UAM to study to be a teacher of some sort.
OTHER THAN YOUR PARENTS, WHO'S HAD THE BIGGEST INFLUENCE ON YOUR LIFE? HOW? My peers; I would see my peers get in trouble and realized I should do bad things.
WHAT'S YOUR FAVORITE THING ABOUT SWIMMING? Getting out of class early on some days.
WHAT IS/ARE YOUR EVENT(S): I usually swim 100 free and 100 back.
WHAT IS YOUR APPROACH TO YOUR EVENTS? I usually say a prayer before I do a start.
WHAT'S BEEN THE HIGHLIGHT TO THE SEASON SO FAR (team)? Getting me back on the team. Just kidding. Probably the first places we got on meets or just getting Minki (Kang).
WHAT BEEN THE HIGHLIGHT TO THE SEASON SO FAR (personally)? Just getting back on the team.
WHAT'S IT GOING TO TAKE FOR THE TEAM TO BE SUCCESSFUL THE REST OF THE SEASON? More discipline
TALK ABOUT YOUR SWIMMING NOW; WHAT ARE YOU MOST CONFIDENT IN YOUR ABILITY TO DO? Probably floating, since I lost a lot of my ability in the semester I had without swimming.
WHAT DO YOU WORK HARDEST TO IMPROVE ON IN PRACTICE? My dive/start.
WHEN YOU'RE THROUGH SWIMMING FOR BRYANT HIGH SCHOOL, WHAT DO YOU THINK YOU'LL LOOK BACK AND REMEMBER MOST FONDLY ABOUT THE EXPERIENCE? Just my friends and how they brought my self esteem up a bit.