Editor's note: This is a regular feature profiling senior athletes at Bryant High School.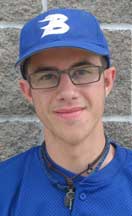 NAME: B.J. Ellis
DATE OF BIRTH: April 17, 1992
PARENTS: My mom's named Cindy Gimm and my step-dad's name is Dean Gimm.
SIBLINGS: I've got one brother and two sisters. My brother, Josh Munson, is 14. My sisters, one is 9 and one is 13, Ariel and Savannah.
FAVORITE SUBJECT IN SCHOOL: Math
WHAT DO YOU LIKE TO DO IN YOUR SPARE TIME? Just hang out with friends.
FAVORITE FOOD: Steak
FAVORITE MUSIC ARTIST OR GROUP: I really don't have one. I just listen to everything. Everything but the scream-o stuff. I don't like that.[more]
FAVORITE MOVIE: Probably Field of Dreams.
FAVORITE TV SHOW: CSI
WHAT WAS YOUR FAVORITE TOY AS A KID? I had a stuffed bear. His name was Gooshy and I had to take him around everywhere.
WHAT ARE YOUR PLANS AFTER HIGH SCHOOL? I'm going to college, probably Arkansas Baptist. I'm going to try to be a teacher and a coach.
OTHER THAN YOUR PARENTS, WHO HAS HAD THE BIGGEST INFLUENCE ON YOUR LIFE? I'd probably say my grandma. She pushes me. She's like my mom. She pushes me hard.
FAVORITE THING ABOUT BASEBALL: Catching, being behind the plate. It's fun. Throwing people out at second.
POSITION: Catcher.
WHAT DO YOU FEEL LIKE IS YOUR PRIMARY RESPONSIBILITY ON THE TEAM? To get everybody up. Since I'm a senior, I try to take charge and get everybody up.
WHAT'S YOUR APPROACH AT THE PLATE? I just think, I know I can hit the ball and get on base.
WHAT DO YOU THINK OF THE SEASON SO FAR? We were doing good at the very beginning then we got into a little hitting slump. I didn't think we were doing too bad on defense. It was just a hitting slump. But now we're starting to get the hang of hitting again so things are going to be good.
WHAT'S BEEN THE HIGHLIGHT TO THE SEASON SO FAR? Just hanging out with the team, practicing. It's my last year of high school, so it's going to be fun.
WHAT'S IT GOING TO TAKE FOR THE TEAM TO BE SUCCESSFUL THE REST OF THE SEASON? Just keep practicing, just keep doing what we know how to do best.
INDIVIDUALLY, WHAT ABOUT YOUR GAME ARE YOU MOST CONFIDENT ABOUT? Catching. My hitting, I'm getting there.
WHAT DO YOU WORK HARDEST TO IMPROVE? Hitting.
AFTER YOU'RE THROUGH PLAYING BASEBALL AT BHS, WHAT DO YOU THINK YOU'LL REMEMBER MOST FONDLY ABOUT IT? All the stuff Coach (Kirk) Bock's taught me. Everything he's taught me is going to help me go far.