Editor's note: This is a regular feature profiling senior athletes at Bryant High School.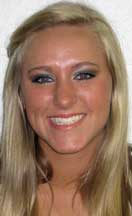 NAME: Bailee Seelinger
PARENTS: Kim and Philip Seelinger
SIBLINGS: I have an older sister and a little brother. Morgan is about to turn 20 and my little brother is 7.
FAVORITE SUBJECT IN SCHOOL: Stage management
FAVORITE SPARE TIME ACTIVITY: Swim and hang out with friends
FAVORITE FOOD: Pizza
FAVORITE MUSIC ARTIST OR GROUP: I like Country music but I don't have a favorite singer.
FAVORITE MOVIE: Pretty Woman
FAVORITE TV SHOW: Jersey Shore
WHAT WAS YOUR FAVORITE TOY AS A KID? My Winnie the Pooh stuffed animal.
WHAT ARE YOUR PLANS AFTER HIGH SCHOOL? I'm going to go to UCA and study radiology
OTHER THAN YOUR PARENTS, WHO'S HAD THE BIGGEST INFLUENCE ON YOUR LIFE? HOW? My older sister because she's always been inspiring me.
WHAT'S YOUR FAVORITE THING ABOUT TRACK? The people, because they're fun to be with.
EVENTS? I run the 4×100 and 4×400.
WHAT APPROACH DO YOU TAKE TO YOUR EVENT? I just try to run my best.
WHAT DO YOU THINK OF THE SEASON SO FAR? I think we're doing pretty good. We are pretty good group this season.
WHAT'S BEEN THE HIGHLIGHT TO THE SEASON SO FAR? None.
WHAT'S IT GOING TO TAKE FOR THE TEAM TO BE SUCCESSFUL THE REST OF THE SEASON? I'm excited. I think we're going to do good at conference. We're going to win, maybe.
TALK ABOUT YOUR EVENT NOW; WHAT DO THINK IS YOUR BIGGEST ASSET? WHAT ARE YOU MOST CONFIDENT IN YOUR ABILITY TO DO? I'm better at sprints. I'm not really good at long distance.
WHAT DO YOU WORK HARDEST IN PRACTICE TO IMPROVE ON? The strength in my legs.
WHEN YOU'RE THROUGH RUNNING TRACK AT BRYANT HIGH SCHOOL, WHAT DO YOU THINK YOU'LL LOOK BACK AND REMEMBER MOST FONDLY ABOUT THE EXPERIENCE? Just my friends and the long bus rides and our parties when we win.