Editor's note: This is a regular feature profiling senior athletes at Bryant High School.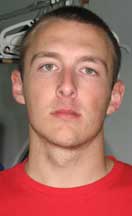 NAME: Blake Davidson
PARENTS: Teresa and Jeff
SIBLINGS: I've got one sister, Katie. She is 14.
FAVORITE SUBJECT IN SCHOOL: Math
WHAT DO YOU LIKE TO DO IN YOUR SPARE TIME? Just hang out with my buds.
FAVORITE FOOD: Steak
FAVORITE MUSIC ARTIST OR GROUP: I listen to everything pretty much
FAVORITE MOVIE: Never Back Down[more]
FAVORITE TV SHOW: Sportscenter
WHAT WAS YOUR FAVORITE TOY AS A KID? Probably a baseball
WHAT ARE YOUR PLANS AFTER HIGH SCHOOL? Go to college and major in Biology then eventually go to med school. Right now, I'm looking to go to U of A but it kind of depends on my arm and everything.
OTHER THAN YOUR PARENTS, WHO HAS HAD THE BIGGEST INFLUENCE ON YOUR LIFE? Probably all my coaches because other than at home that's where I've been. Guys like Darren Hurt, Wayne Taylor, Coach (Kirk) Bock, they've been there for me. And Coach (Paul) Calley and all of them as well. They've been there for me, if I ever need anything. Coach (Jason) Hay, Coach (Dale) Jones, all of them.
FAVORITE THING ABOUT BASEBALL: Just the competitiveness, especially being out there pitching. It's one on one all the time. Somebody wins and somebody loses every at bat and that's interesting to me.
POSITIONS: Pitcher
WHAT'S YOUR APPROACH TO PITCHING? Pretty much my approach was let my defense work because I'm not a strikeout guy and we have one of the best defenses in the state. So I want to let them do what they do.
WHAT DO YOU THINK OF THE SEASON SO FAR? We've done great. Hitting-wise, we're a lot better than we were last year. We're a little bit short on pitching. We've had a few injuries but we've fought through it. We're 18-4, ranked eighth in the nation. Done a pretty good job.
WHAT'S BEEN THE HIGHLIGHT TO THE SEASON SO FAR? Winning that Florida tournament, going down there, took a 17-hour bus trip on the way down there and just being able to compete day in and day out and win it.
WHAT'S IT GOING TO TAKE FOR THE TEAM TO BE SUCCESSFUL THE REST OF THE SEASON? We're going to have to be flawless on defense, pretty much. Our bats are going to be there every game but we've got to step up our defense.
TALK ABOUT YOUR SITUATION. WHEN DID YOUR INJURY OCCUR AND WHAT WAS IT? It happened in late July, pitching a Legion game against Benton. I pitched the whole game and was fine. The next morning, I wake up and we've got a 7-on-7 tournament. I was warming up for the 7-on-7 tournament and my arm just started hurting. And it hurt that whole day. I went to the doctor the next week. They thought it was tendinitis so they treated it like tendinitis and I took off for two weeks. After that, it was still hurting when I tried to go back and throw again. So I went back to (the doctor) and they did an MRI. The MRI showed that I had rotator cuff tendinitis. So that's what they treated it as again. So I took two more weeks off. And it was still awful after those two weeks. By then, it was six weeks into football season. They took an MRI with contrast in the joint and that's when they finally found that I had a labrum tear. They had to do the repair. I was in a sling for four weeks then I started throwing about three weeks ago eventually. The week after I started throwing, I was getting pains in the back part of my arm. I went back to the doctor and found out that I strained a muscle, a lateral muscle, just not being strong enough. I go back to the doctor (this week) to figure out what I need to do from here.
SOUNDS LIKE A HARD ROAD. It's been tough especially, you know, because this is all I've worked for my whole high school career. I wanted to be quarterback. Well, that dream didn't work out. Then I thought I was going to be able to come back and throw at the end of the season and hopefully I still will. It sucks but, you know, I've kind of just got to step up, be a leader, do all that you can for your team now. So, pretty much, my role now is trying to help people if they've got something going wrong, try to help them work on that situation. That's about all I can do.
AFTER YOU'RE THROUGH PLAYING BASEBALL AT BHS, WHAT DO YOU THINK YOU'LL REMEMBER MOST FONDLY ABOUT IT? I'm going to remember, definitely, the State championship game, Benny (Wells) throwing that perfect game. I love that whole State championship run after losing eight out of nine or seven out of eight or whatever it was, to come back and win 11 in a row. Then, the game that I pitched against Catholic. That was awesome to be able to do that, then to have Benny come in and strike out the last three. That whole experience was awesome.