Editor's note: This is a regular feature profiling senior athletes at Bryant High School.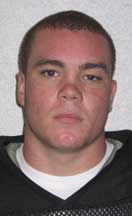 NAME: Blake Heil
DATE OF BIRTH: Jan. 2, 1992
PARENTS: Bridgett and Brian
SIBLINGS: I've got two brothers, 14 and 10, I think. Brent and Boston.
FAVORITE SUBJECT IN SCHOOL: Math.
WHAT DO YOU LIKE TO DO IN YOUR SPARE TIME? Sports.
FAVORITE FOOD: Steak
FAVORITE MUSIC ARTIST OR GROUP: I don't have one.
FAVORITE MOVIE: Shooter.[more]
FAVORITE TV SHOW: Rob & Big
WHAT WAS YOUR FAVORITE TOY AS A KID? Legos.
WHAT ARE YOUR PLANS AFTER HIGH SCHOOL? To be a mechanical engineer. I've been accepted to Fayetteville.
OTHER THAN YOUR PARENTS, WHO HAS HAD THE BIGGEST INFLUENCE ON YOUR LIFE? I don't know, I haven't really had one I guess. Maybe my grandpa. He's taught me a lot of stuff.
WHAT'S YOUR FAVORITE THING ABOUT FOOTBALL? Hitting people.
POSITION: Defensive end and tight end.
WHAT DO YOU FEEL LIKE IS YOUR PRIMARY RESPONSIBILITY THERE? Containment, don't let them get outside and tackle the person with the ball. At tight end, to know my blocking assignments and catch the ball.
WHAT DO YOU THINK OF THE SEASON SO FAR? I feel like we've done pretty good and we've got a good chance of winning State. We've just got to not make mistakes. We play together pretty good and we haven't made that many mistakes in the games we've won. Russellville, we didn't do too hot. We made some mistakes and it cost us. We've got to stay mistake-free.
WHAT'S BEEN THE HIGHLIGHT TO THE SEASON SO FAR? Just being on the team with my friends, playing football.
WHAT'S IT GOING TO TAKE FOR THE TEAM TO BE SUCCESSFUL THE REST OF THE SEASON? No mistakes and play our positions.
INDIVIDUALLY, WHAT ABOUT YOUR GAME ARE YOU MOST CONFIDENT ABOUT? Just hitting people. I like hitting people.
WHAT DO YOU WORK HARDEST TO IMPROVE? Pass rushing.
AFTER YOU'RE THROUGH PLAYING FOOTBALL AT BHS, WHAT DO YOU THINK YOU'LL REMEMBER MOST FONDLY ABOUT IT? Probably just having fun with my friends on the team and having good memories with my friends.