Editor's note: This is a regular feature profiling senior athletes at Bryant High School.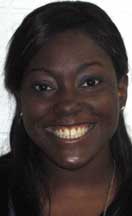 NAME: Brandi Robinson
PARENTS: Rosalind Reams and Warren Robinson
SIBLINGS: I have two brothers, Dennis and Warren Jr. Dennis is 21 and Warren is 3.
FAVORITE SUBJECT IN SCHOOL: Multimedia
FAVORITE SPARE TIME ACTIVITY: Play video games
FAVORITE FOOD: Chinese
FAVORITE MUSIC ARTIST OR GROUP: Wiz Khalifa
FAVORITE MOVIE: The Losers[more]
FAVORITE TV SHOW: Martin
WHAT WAS YOUR FAVORITE TOY AS A KID? Play-doh.
WHAT ARE YOUR PLANS AFTER HIGH SCHOOL? I'm going to U of A in Fayetteville for Kinesiology.
OTHER THAN YOUR PARENTS, WHO'S HAD THE BIGGEST INFLUENCE ON YOUR LIFE? HOW? No one really. My mom's always been my influence.
WHAT'S YOUR FAVORITE THING ABOUT TRACK? I used to run but I don't anymore. Now I'm a manager. But I like being part of the team, going through all the emotional moments and bonding as a group.
WHAT DO YOU FEEL YOUR PRIMARY RESPONSIBILITIES ARE AS A MANAGER? Make sure that everyone's taken care of. Make sure they have their blocks, have extra spikes if they need them, tape, all that.
WHAT DO YOU THINK OF THE SEASON SO FAR? I'm pretty impressed. They've been doing very good.
WHAT'S BEEN THE HIGHLIGHT TO THE SEASON SO FAR? Winning the home meet.
WHAT'S IT GOING TO TAKE FOR THE TEAM TO BE SUCCESSFUL THE REST OF THE SEASON? Just keep doing what they're doing, keep being aggressive and just believing in themselves.
TALK WHAT YOU DO NOW; WHAT DO YOU THINK IS YOUR BIGGEST ASSET? WHAT ARE YOU BEST AT? Encouragement.
WHEN YOU'RE THROUGH BEING INVOLVED IN TRACK AT BRYANT HIGH SCHOOL, WHAT DO YOU THINK YOU'LL LOOK BACK AND REMEMBER MOST FONDLY ABOUT THE EXPERIENCE? Being with my team, having fun, the bus rides and acting crazy.