Editor's note: This is a regular feature profiling senior athletes at Bryant High School.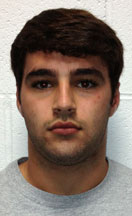 NAME: Brandon Caple
PARENT: Charles and Jamy Caple
SIBLINGS: I have one brother, Brett. He's 13.
FAVORITE SUBJECT IN SCHOOL: Probably Science
WHAT DO YOU LIKE TO DO IN YOUR SPARE TIME? Play guitar, lift weights
FAVORITE FOOD: Steak
FAVORITE MUSIC ARTIST OR GROUP: Li'l Wayne, I guess.
FAVORITE MOVIE: Talladega Nights[more]
FAVORITE TV SHOW: NCIS
WHAT WAS YOUR FAVORITE TOY AS A KID? I had this Woody off of Toy Story.

WHAT ARE YOUR PLANS AFTER HIGH SCHOOL? Go to A-State and major in nursing and become a nurse anesthetist.
OTHER THAN YOUR PARENTS, WHO HAS HAD THE BIGGEST INFLUENCE ON YOUR LIFE? Probably my great uncle. He's always taught me how to do stuff.
WHAT'S YOUR FAVORITE THING ABOUT FOOTBALL: Getting the big hit. The adrenaline rush you get knocking somebody down.
POSITION: Right guard
WHAT DO YOU FEEL LIKE IS YOUR PRIMARY RESPONSIBILITY ON THE FIELD? Making sure that (quarterback Hayden) Lessenberry doesn't get touched more than 10 times a game.
WHAT DO YOU THINK OF THE SEASON SO FAR? It's going different than what everybody thought it would but we're going to work out the kinks and try to win conference.
WHEN THE TEAM'S PLAYING WELL, WHAT'S THE KEY TO THAT? It's just everybody doing their job.
WHAT'S BEEN THE HIGHLIGHT TO THE SEASON SO FAR? I think the Benton game. It's the most we've ever scored on them. So I'd say that's probably the highlight so far.
WHAT'S IT GOING TO TAKE FOR THE TEAM TO BE SUCCESSFUL THE REST OF THE SEASON? Just staying healthy. Me and Blake Hobby are both injured and we're starters so when we get back and stay healthy and everybody else can stay healthy, I think that's a big part.
INDIVIDUALLY, WHAT ABOUT YOUR GAME ARE YOU MOST CONFIDENT ABOUT? I would say screen blocking.
WHAT DO YOU WORK HARDEST TO IMPROVE? Pass blocking because I'm so small.
AFTER YOU'RE THROUGH PLAYING FOOTBALL AT BHS, WHAT DO YOU THINK YOU'LL REMEMBER MOST FONDLY ABOUT IT? I don't know, just being able to beat Benton all the time and being back-to-back conference champions. That's never happened before.