Editor's note: This is a regular feature profiling senior athletes at Bryant High School.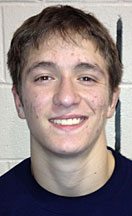 NAME: Brett Blend
PARENTS: Steve and Debbie Blend
SIBLINGS: Reagan's 14 and a two-year-old named Kayley.
FAVORITE SUBJECT IN SCHOOL: Math
FAVORITE SPARE TIME ACTIVITY: Play video games, lay around.
FAVORITE FOOD: Pizza.
FAVORITE MUSIC ARTIST OR GROUP: Led Zeppelin
FAVORITE MOVIE: I'm going to have to say Holes.[more]
FAVORITE TV SHOW: Doctor Who
WHAT WAS YOUR FAVORITE TOY AS A KID? The only thing that I can remember is Tonka trucks.
WHAT ARE YOUR PLANS AFTER HIGH SCHOOL? College wrestling. I don't know where though. I either want to major in Astro-Physics, Physics or Physical Therapy.
OTHER THAN YOUR PARENTS, WHO'S HAD THE BIGGEST INFLUENCE ON YOUR LIFE? HOW? Pat Smith. He's been coaching me since August 2009 at the Arkansas Wrestling Academy. He's a four-time National champion. He's taught me basically everything.
WHAT'S YOUR FAVORITE THING ABOUT WRESTLING? Winning and the hard work I put into it.
WHAT'S YOUR WEIGHT CLASS? 145
WHAT'S YOUR APPROACH TO A MATCH? I want to go in there, I want to take control of the match. I want to win. I don't care if the other guy — I can't feel sorry for him.
WHAT'S BEEN THE HIGHLIGHT TO THE SEASON SO FAR? Beating the number three guy in the state.
WHAT'S IT GOING TO TAKE FOR THE TEAM TO BE SUCCESSFUL THE REST OF THE SEASON? They need to practice harder, wrestle smarter, know what they're doing.
WHAT ARE YOU MOST CONFIDENT IN YOUR ABILITY TO DO? Probably defense. When I'm standing in neutral and a guy shoots on me I'm pretty confident I'll take them down.
WHAT DO YOU WORK HARDEST TO IMPROVE ON IN PRACTICE? Neutral.
WHEN YOU'RE THROUGH WRESTLING AT BRYANT HIGH SCHOOL, WHAT DO YOU THINK YOU'LL LOOK BACK AND REMEMBER MOST FONDLY ABOUT THE EXPERIENCE? We had a guy on the team named Harley Burks. He wrote stories and they were the most hilarious stories I ever read. He's writing one for us right now. He's in L.A., trying to do acting. He's really good. He's sending them to us.