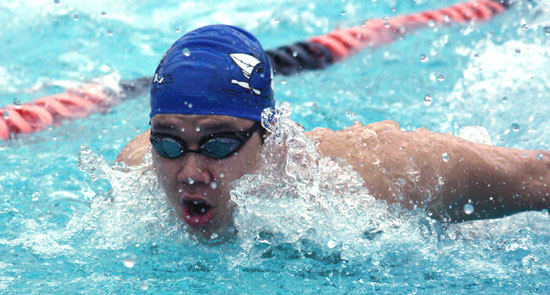 CONWAY — Bryant's Minki Kang broke a record at the Hendrix College pool set by a college swimmer in 2007 when he turned[more] in a 4:38.89 to win the 500 yard free style at the annual Hendrix Invitational on Saturday, Jan. 26.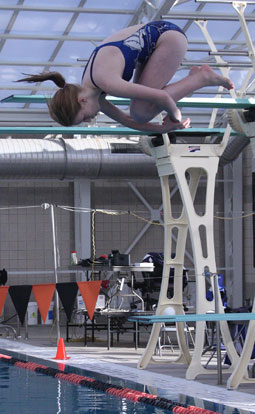 The massive meet included 21 men's teams and 22 women's teams, which made it a long day. Bentonville won the men's competition with 289 points. Bryant was seventh with 134. Conway won the women's competition with 353 points. Bryant was sixth with 153.
Kang not only won the 500 free, he won the 200 individual medley with a time of 2:01.83.
His time in the 500 beat the previous best at the pool of 4:44.71.
For the Lady Hornets, Lindsey Butler provided the highlight with a first-place finish in the 100-yard backstroke, turning in a time of 1:01.26.
"It was a long day and we are still battling illness," commented Bryant coach Angel Dale. "I am hoping we are all well by the District meet. We have two meets this week; the Benton meet at Bishop (Park) is on Tuesday, Jan 29. Then we have the regular-season ending meet that is on Saturday, Feb 2, at UALR with diving for the meet to be held on Wednesday."
Kang joined Casey Ball, Ray Weldon and Jim Dellorto on the 100 yard medley relay, earning an eighth-place finish in 1:56.51. Andrew Ball, Casey Ball, Weldon and Kang turned in a 1:42.12 to finish ninth in the 200 free relay.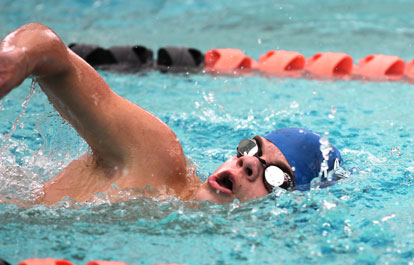 The Hornets' quartet of Trace Rhode, Ryan West, Andrew Ball and Dellorto clocked in at 4:17.15 in the 400 free relay, good for 10th.
Individually, Bryant's Justin Combs finished fourth in the one-meter dive. Luke Reitenger was eighth. Weldon turned in a 57.63 for 10th in the 100 free while Casey Ball finished in 2:14.99 to take 12th in the 200 free.
Rounding out the boys scoring was Casey Ball in the 100 yard backstroke which he finished in 1:08.09, picking up points for 15th place.
For the girls, in addition to her first in the backstroke, Butler was third in the butterfly, posting a time of 1:04.10. Katie Higgs was sixth in 1:08.87.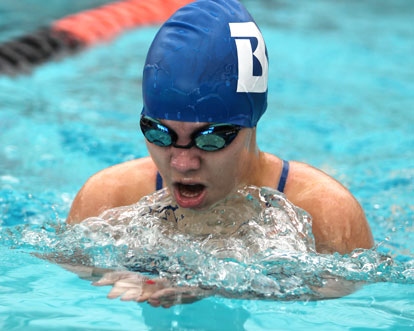 Those two teamed up with Tiffany Robinson and Reagan Smith to produce a fifth-place score of 2:10.05 in the 200 medley relay. In the 200 free relay, Higgs, Smith and Butler were joined by Kalee Jackson. In a time of 1:52.31, they finished fourth.
The Lady Hornets picked up sixth-place points in the 400 free relay. Robinson and Jackets combined with Sarah White and Bailey Peairson to place sixth in 4:41.48.
Bryant picked up points from Kaitlin Howey and Megan Curry in the diving competition. Howey was 11th overall with a score of 83.70. Curry was 12th with a score of 66.30.
Jackson turned in a 6:27.83 to earn 12th place points in the 500 free, while Hester and Smith each picked up 15th-place points. Hester's came in the 200 IM, in which she clocked in at 2:56.23. Smith's 29.68 for 15th came in the 50 free.