The Bryant Lady Hornets will be hosting the Class 7A State Tournament beginning Thursday, May 10. For brackets, go here.
Editor's note: This is a regular feature profiling senior athletes at Bryant High School.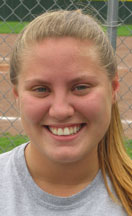 NAME: Brittney Ball
PARENTS: Stephanie and Jason Lester.
SIBLINGS: I have a brother named Brennan. He's 12. A brother named Brayden. He's 10. And a sister named Brooklyn and she's 6.
FAVORITE SUBJECT IN SCHOOL: English
WHAT DO YOU LIKE TO DO IN YOUR SPARE TIME? Sleep
FAVORITE FOOD: Mexican chicken
FAVORITE MUSIC ARTIST OR GROUP: I like everything.
FAVORITE MOVIE: Never Back Down[more]
FAVORITE TV SHOW: The Cosby Show
WHAT WAS YOUR FAVORITE TOY AS A KID? My trampoline
WHAT ARE YOUR PLANS AFTER HIGH SCHOOL? I'm going to ASU to play softball and I don't know what I want to major in.
OTHER THAN YOUR PARENTS, WHO HAS HAD THE BIGGEST INFLUENCE ON YOUR LIFE? My grandparents. They pretty much raised me to be the person I am today. They have always taken care of me and given me everything that I need.
FAVORITE THING ABOUT SOFTBALL: Everybody that I play with, everybody that I've ever played with; the relationships I've built.
POSITION: Infield
WHAT'S YOUR APPROACH AT THE PLATE? Swing at anything close.
WHAT'S YOUR APPROACH IN THE FIELD? Read the ball well.
WHAT DO YOU THINK OF THE SEASON SO FAR? I think it's going really well. Being undefeated is a big accomplishment.

WHEN THE TEAM PLAYS WELL, WHAT'S IT DOING? Everybody's happy. We all click. When everybody's clicking and happy then you can't stop us.
WHAT'S BEEN THE HIGHLIGHT TO THE SEASON SO FAR? Being undefeated this year.
WHAT'S IT GOING TO TAKE FOR THE TEAM TO BE SUCCESSFUL AT STATE? We're just going to have to keep working hard, keep pushing ourselves harder than we do every day.
TALK ABOUT YOUR GAME. WHAT ARE YOU MOST CONFIDENT IN YOUR ABILITY TO DO? Being positive.
WHAT DO YOU WORK HARDEST IN PRACTICE TO IMPROVE ON? My hitting.
AFTER YOU'RE THROUGH PLAYING SOFTBALL AT BHS, WHAT DO YOU THINK YOU'LL REMEMBER MOST FONDLY ABOUT IT? Everybody that I've played with and all the friends I've made.