Editor's note: This is a regular feature profiling senior athletes at Bryant High School.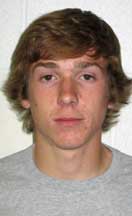 NAME: Caleb Garrett
PARENTS: Allan and Alice Garrett
SIBLINGS: One sister, Casey. She's 12.
FAVORITE SUBJECT IN SCHOOL: East
WHAT DO YOU LIKE TO DO IN YOUR SPARE TIME? Anything outdoors.
FAVORITE FOOD: Steak
FAVORITE MUSIC ARTIST OR GROUP: All music, really.
FAVORITE MOVIE: Remember The Titans[more]
FAVORITE TV SHOW: ESPN
WHAT WAS YOUR FAVORITE TOY AS A KID? Bike. I couldn't go anywhere without that.
WHAT ARE YOUR PLANS AFTER HIGH SCHOOL? Attend ASU and get my nursing degree.
OTHER THAN YOUR PARENTS, WHO HAS HAD THE BIGGEST INFLUENCE ON YOUR LIFE? Probably just coaches throughout sports. They've just taught me what's right and what's wrong and to work hard.
FAVORITE THING ABOUT SOCCER: There's always something going on. You're never just standing still in this sport.
POSITION: Recently, it's been just about all of them to be honest.
WHAT DO YOU FEEL LIKE IS YOUR PRIMARY RESPONSIBILITY ON THE FIELD? Just to always give 100 percent and always be where I'm supposed to be.
WHAT DO YOU THINK OF THE SEASON SO FAR? I think we've had some unlucky breaks but if we just continue to work hard and do what we're supposed to do, everything will go right when we need it to.
WHEN THE TEAM'S PLAYING WELL, WHAT'S IT DOING? Playing the ball on the ground, just doing what we're supposed to do, assignments.
WHAT'S BEEN THE HIGHLIGHT TO THE SEASON SO FAR? The Texarkana tournament really because we lost the first game but we fought back and got all the way to the championship. That showed a lot of heart from everybody.
WHAT'S IT GOING TO TAKE FOR THE TEAM TO BE SUCCESSFUL THE REST OF THE SEASON? We just can't get complacent. We've got to work hard every day.
INDIVIDUALLY, WHAT ABOUT YOUR GAME ARE YOU MOST CONFIDENT ABOUT? I rely on my speed a lot, whether it's if I get beat by the guy with the ball I can always catch up to him or if I have the ball I can always get by somebody with my speed.
WHAT DO YOU WORK HARDEST TO IMPROVE? Shots, probably.
AFTER YOU'RE THROUGH PLAYING SOCCER AT BHS, WHAT DO YOU THINK YOU'LL REMEMBER MOST FONDLY ABOUT IT? Just the bonds I've formed with everybody. This is my first year to play so it's just fun to meet everybody.