By Rob Patrick
Photos courtesy of Phil Pickett
TEXARKANA — Sometimes the best thing after a disappointing loss is to get right back on the[more] field again and work that bad taste out of your mouth.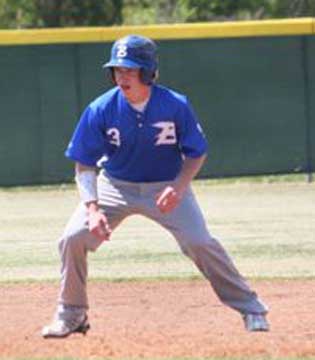 The Bryant Hornets got a chance to do that Saturday at noon against the Arkansas High Razorbacks, just hours after their 4-2 loss to 7A/6A-Central Conference rival Cabot in the second game of their doubleheader on Friday night.
And behind the pitching and hitting of Landon Pickett, the Hornets rolled to a 9-3 win over the Hogs.
Texarkana, one of four teams tied atop the 6A-South Conference, was coming off a wild 10-9 league win at Pine Bluff on Friday.
Pickett, Tyler Brown and Jordan Taylor each had two hits for Bryant. Pickett drove in four runs, three of them on an opposite-field homer while Taylor reached base all five times he came to the plate. Brown scored twice and knocked in a run.
On the mound, Pickett went six innings, scattering four hits, walking one and striking out five. He surrendered two runs, only one earned. Sophomore Tryce Schalchlin worked the seventh and Texarkana managed another unearned run before the right-hander induced a doubleplay ball and finished it with a comebacker.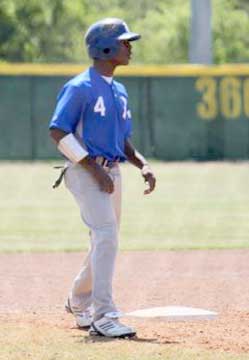 "Landon, I don't think he had his best stuff but he had a good game," commented Hornets coach Kirk Bock. "He was good enough to win, to keep those guys off balance a little bit.
"I thought Tryce did a good job of coming in and throwing strikes and making them put it in play," he added.
"We went through some of the same old woes early," the coach said of his team's work at the plate. "We just weren't letting (pitches) get deep. When guys are throwing slow, it's a lot tougher to do. But then later we started swinging it and, you know, good hitters hit all pitching.
"Defensively, we're all right," he added. "We're doing a good job."
The win improved the Hornets to 13-3 overall. They'll put their 3-1 league mark on the line again on Thursday, April 7, when North Little Rock visits for a conference twinbill.
Bryant's initial lead was a gift from Texarkana starter Tevin Tosh. Walks to Brown and Taylor had runners at first and second with two out when, on a 3-2 pitch, Tosh hit Dylan Cross to load the bases. On four straight out of the zone, he walked Lucas Castleberry to force in a run.
In the second, Evan Jobe worked a one-out walk and Tyler Nelson shot a single to right for the Hornets' first hit. Brown bunted on the safety squeeze but it didn't get far enough from the plate to get Jobe home. But, with two out, Tosh issued another free pass to Taylor to load the bases for Pickett who cracked an opposite-field single to make it 2-0.
Pickett, meanwhile, retired six of the first seven he faced, allowing only a one-out single to Brett Rhinehart in the second.
After lefty reliever Hunter Withers got out of the bases-loaded jam in the second, he worked around a two-out infield hit by Josh Pultro in the third.
Pickett fanned the first batter he faced in the bottom of the inning but then Andrew Jester sliced a single to right. Jester stole second but then appeared to be picked clean off second by Pickett. It was a move that the Hornets often use but this time a balk was called. Bock went to the umpire to try to explain how the move was legal but to no avail and Jester was awarded third.
Moments later, Pickett tried to pick him off third only to have his throw deflect off the base-runner and away from Brown, the third baseman. Jester hustled home for Texarkana's first run.
The inning ended with Texarkana's Drake Freeman lining one back to the Bryant pitcher.
Brown and Taylor rifled singles up the middle with one out in the fourth and, on an 0-1 pitch, Pickett sliced a drive down the right-field line and over the fence for a three-run dinger, turning a 2-1 lead into a 5-1 advantage.
The Razorbacks went down in order in the fourth and, in the fifth, Pickett retired the first two before issuing a walk to Cutter West on a 3-2 delivery. Jester came up and West swiped second. Jester worked the count to a 2-2 then fouled off five straight deliveries before dropping a hump-backed liner into right for an RBI single.
West took second on a late throw to the plate. With Pickett laboring, the top of the Texarkana order came around and Blake Resecker shot a single to left. The ball was hit too sharply for Jester to score so runners were at the corners as Freeman came to the plate.
Pickett got the first pitch in for a strike then worked the fake-to-third, throw-to-first pickoff play and caught Resecker wandering. Taylor threw to Castleberry at second and he tagged Resecker out before Jester, who broke for home, could get to the plate, ending the inning with Bryant up 5-2.
The Hornets got the run back in the top of the sixth when Nelson reached on an error, Brown sacrificed him to second and Taylor lashed a double to the gap in left-center to chase him home.
After Pickett finished with a scoreless sixth, Bryant's second-team outfield got in on the fun at the plate in the top of the seventh. With one out, Tyler Green smacked a single to center. On a 1-1 pitch to Marcus Wilson, Green was off from first. Wilson pulled a shot down the third-base line and Green came all the way around to score on the double. Hayden Daniel moved Wilson to third with a fly to center and, after Nelson walked, Brown slapped an RBI single to right to make it 8-2.
With Taylor at the plate, Nelson stole third. Brown stayed at first but, moments later, took off for second and when catcher Preston Ellis' throw was errant, Nelson scampered home with the Hornets' final run.
Taylor walked for the third time in the game and Withers was pulled. Right-hander Hunter Sanderson came on and threw one pitch to get Pickett to fly to right to end the inning.
Schalchlin was greeted by a double from Austin White in the bottom of the seventh. But the young hurler got Jackson Murphy to tap back to the mound. Schalchlin checked the runner and caught White halfway between second and third. He threw to Brown at third who forwarded a throw towards Ozzie Hurt at second. But the throw was errant and White wound up at third anyway as Murphy held at first.
Another pinch-hitter, Mason Dodson singled up the middle to bring White home. But, with runners at first and second, Schalchlin got Jester to bounce to Hurt who started a doubleplay. Pinch-runner Ryan Hensley took third but was stranded there when Resecker tapped back to Schalchlin who, this time, threw to first for the easy out to end the game.
BRYANT 9, TEXARKANA 3
Hornets ab r h bi Razorbacks ab r h bi
Nelson, ss 4 2 1 0 Resecker, cf 4 0 1 0
Brown, 3b 3 2 2 1 Freeman, 2b 3 0 0 0
Taylor, 1b 2 1 2 1 Milhorn, rf 3 0 0 0
Pickett, p 5 1 2 4 Ellis, c 3 0 0 0
Daniel, cr 0 0 0 0 Rhinehart, 1b 3 0 1 0
Schalchlin, p 0 0 0 0 White, ss 3 1 1 0
Cross, dh 3 0 0 0 Murphy, dh 3 0 0 0
Castleberry, 2b 3 0 0 1 Hensley, pr 0 0 0 0
Hurt, 2b 0 0 0 0 West, lf-pr 1 1 0 0
Joiner, lf 3 0 0 0 Dodson, ph 1 0 1 1
T.Green, lf 1 1 1 0 Jester, 3b 3 1 2 1
Pultro, cf 3 0 1 0 Tosh, p 0 0 0 0
Wilson, cf 1 1 1 1 Withers, p 0 0 0 0
Jobe, rf 2 1 0 0 Sanderson, p 0 0 0 0
Daniel, rf 1 0 0 0
Lessenberry, c 0 0 0 0
Totals 31 9 10 8 Totals 27 3 6 2
BRYANT 110 301 3 — 9
Texarkana 001 010 1 — 3
E—Pickett, Freeman, Ellis, Brown. DP—Bryant 1. LOB—Bryant 10, Texarkana 4. 2B—Taylor, White. HR—Pickett. SB—Jobe, Nelson 2, Jester, West, Milhorn, Brown. S—Brown.
Pitching ip r er h bb so
BRYANT
Pickett (W) 6 2 1 4 1 5
Schalchlin 1 1 0 2 0 0
Texarkana
Tosh (L) 1.2 2 2 2 5 1
Withers 5 7 5 8 2 2
Sanderson 0.1 0 0 0 0 0
Balk—Pickett. HBP—Cross (by Tosh). WP—Tosh, Withers.