Editor's note: This is a regular feature profiling senior athletes at Bryant High School.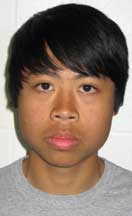 NAME: Michael Ma
PARENTS: Tony and Mary Ma
SIBLINGS: I have a brother and a sister. My brother's name is Jonathan. He's 15. My sister is Jade. She's 10.
FAVORITE SUBJECT IN SCHOOL: Math
WHAT DO YOU LIKE TO DO IN YOUR SPARE TIME? Just kick the ball around and hang out with friends.
FAVORITE FOOD: Barbecue
FAVORITE MUSIC ARTIST OR GROUP: Eminem.[more]
FAVORITE MOVIE: I don't really have a favorite. I like a lot of movies.
FAVORITE TV SHOW: Burn Notice
WHAT WAS YOUR FAVORITE TOY AS A KID? A soccer ball.
WHAT ARE YOUR PLANS AFTER HIGH SCHOOL? To, hopefully, go to Berkley but I haven't gotten word back from them. I want to move out to California and attend college there, maybe play soccer.
OTHER THAN YOUR PARENTS, WHO HAS HAD THE BIGGEST INFLUENCE ON YOUR LIFE? Sports-wise, Leno Messi because he's such a great player and he works hard every time he goes out. I just want to follow in his footsteps and work hard.
FAVORITE THING ABOUT SOCCER: The teamwork and how it's not based around one person, it's based around the team. And that's how you win.
POSITION: Right defender and forward, wing.
WHAT DO YOU FEEL LIKE IS YOUR PRIMARY RESPONSIBILITY ON THE FIELD? Just to step up and talk, inform people on what's going on around them when they don't know. And to step up and be a leader.
WHAT DO YOU THINK OF THE SEASON SO FAR? It's been pretty good. We've had some bad breaks but we've just got to make sure we don't put our heads down and fight through it. Through the worst of it all, you can come out on top.
WHEN THE TEAM'S PLAYING WELL, WHAT'S IT DOING? We're communicating a lot. Communication is a big thing for our team because we don't really do that a lot. But when we do, things start clicking and it works out really well.
WHAT'S BEEN THE HIGHLIGHT TO THE SEASON SO FAR? When we played Van Buren, I think, was a highlight because we had a short losing streak. Maybe this will be a turning point for our season and we can start winning.
INDIVIDUALLY, WHAT ABOUT YOUR GAME ARE YOU MOST CONFIDENT ABOUT? I'm more comfortable dribbling the ball, looking for passes and stuff.
WHAT DO YOU WORK HARDEST TO IMPROVE? Passing, mostly. That's a fundamental skill but you have to work on that the most.
AFTER YOU'RE THROUGH PLAYING SOCCER AT BHS, WHAT DO YOU THINK YOU'LL REMEMBER MOST FONDLY ABOUT IT? The friends that you make in soccer because the team bonding, there's nothing else you can get that from. In soccer, you rely on your team members and doing that provides closer friendships and bonds.