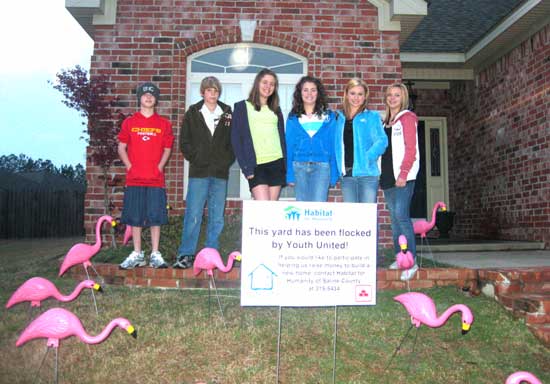 Early in the morning on Friday, April 1, local officials began receiving reports about a flock of pink flamingos landing in[more] Saline County resident's yards. As yet, no official statement has been released. However, some residents speculate the birds' arrival means spring has finally sprung, and others remain hopeful the birds won't bother the county's beautiful foliage.
"Few people realize that April is the beginning of International Pink Flamingo Season," said Drew Williams, Habitat for Humanity's Resource Development Director. "Our Youth United members are very excited to be partnering with such prestigious birds. We anticipate residents will enjoy the birds' visits as much as our Youth United members."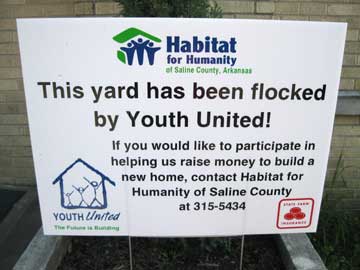 All joking aside, Saline County's Youth United members will, in fact, command a flock of plastic pink flamingos during the month of April. Residents may purchase pre-flock insurance for $25 to avoid the flock all month, or can enjoy the moments of sheer excitement as they check their lawn each morning for pink flamingos.
The fundraiser is one of several ways the group is raising money towards receiving a $4,000 matching grant from State Farm® Insurance Co., for the group's accomplishments in house building and fundraising. In May, the Youth United group will also help with Habitat's Cupcakes for a Cause, a Mother's Day fundraiser called, "Home Sweet Habitat Home."
Youth United members will help deliver cupcakes to mothers in Saline County. Youth United mobilizes young people, ages 5 to 25, to fully fund and build a house with their local Habitat for Humanity affiliate. Students learn leadership and teamwork skills and gain a better understanding of their community and poverty housing. All students are engaged in fundraising, education and advocacy activities, while those over 16 help with actual house construction.
The Habitat for Humanity of Saline County Youth United group has built three houses in partnership with low-income families in need of safe, decent and affordable homes.
The Youth United program is one of the many programs Habitat has to engage youth in Habitat's work. Since 2007, State Farm has served as the national corporate sponsor of Habitat for Humanity's youth programs, with a sponsorship commitment of more than $1.1 million in grants each year. Additionally, State Farm offices contribute more than $500,000 annually to Habitat affiliates across the United States. For more information about Youth United, or any of the upcoming fundraisers, contact the Habitat office at (501) 315-5434.
About Habitat for Humanity of Saline County, AR
Habitat for Humanity of Saline County, Arkansas is an ecumenical Christian ministry that works with the local community to build simple, decent, affordable homes for hardworking, deserving families. Since 1999, HFHSC has partnered with churches, businesses, organizations and individuals to build and provide homes for families in need. For more information visit www.habitatsalinecountyar.org.
Youth United seeks to engage the imagination, energy and hope of young people, ages 5 to 25, worldwide in order to productively and responsibly involve them as leaders in the work of Habitat for Humanity.
About State Farm®
State Farm insures more cars and homes than any other insurer in the U.S., is the leading insurer of watercraft and is also a leading insurer in Canada. State Farm's 17,700 agents and more than 67,000 employees serve 81 million policies and accounts – almost 79 million auto, fire, life and health policies in the United States and Canada, and nearly 2 million bank accounts. State Farm also offers customers banking, annuities and mutual fund products. State Farm Mutual Automobile Insurance Company is the parent of the State Farm family of companies. State Farm is ranked No. 34 on the Fortune 500 list of largest companies. For more information, please visit statefarm.com® or in Canada statefarm.ca®.