Editor's note: This is a regular feature profiling senior athletes at Bryant High School.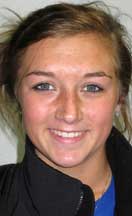 NAME: Tarra Hendricks
PARENTS: Todd Hendricks and Sue Hendricks and Tonya Jenkins and Louie Jenkins
SIBLINGS: I have a brother. His name is Ty and he's 21.
FAVORITE SUBJECT IN SCHOOL: English
WHAT DO YOU LIKE TO DO IN YOUR SPARE TIME? Just hang out with friends.
FAVORITE FOOD: Macaroni
FAVORITE MUSIC ARTIST OR GROUP: Just country.
FAVORITE MOVIE: Probably Friday Night Lights.[more]
FAVORITE TV SHOW: Jersey Shore, I guess
WHAT WAS YOUR FAVORITE TOY AS A KID? A stuffed chicken that I named Cluck-Cluck.
WHAT ARE YOUR PLANS AFTER HIGH SCHOOL? I'm going to CBC to play soccer and I'm going to transfer to Arkansas Tech sometime after, to become either and athletic trainer or a high school soccer coach and English teacher.
OTHER THAN YOUR PARENTS, WHO HAS HAD THE BIGGEST INFLUENCE ON YOUR LIFE? Probably my cousin Jarod because he's got a lot going for him and then a lot of stuff happened and he was just really strong through everything. He's done everything he can to help support his family like he needs to.
FAVORITE THING ABOUT SOCCER: The adrenaline rush once you start playing and know that you're on the field to play for your team. And, even though after a game, you did all that work for just one goal or two goals, you can tell that you really love the sport.
POSITION: Forward.
WHAT DO YOU FEEL LIKE IS YOUR PRIMARY RESPONSIBILITY ON THE FIELD? To pressure the defenders every time they get the ball and to take shots when you can.
WHAT DO YOU THINK OF THE SEASON SO FAR? So far, it's kind of just been rough just because our (conference) record is 2-1 when it should be 3-0 because we didn't come out to play like we should've and we weren't focused at all. We've lost team members and it's just been kind of difficult. But I think we're getting back on track now.
WHEN THE TEAM'S PLAYING WELL, WHAT'S IT DOING? We're moving the ball. We're taking a lot of shots. We don't cross the other half of the field. We just play our game like we've always played.
WHAT'S BEEN THE HIGHLIGHT TO THE SEASON SO FAR? I think it's weird to say but when we lost to Mount (St. Mary) because it made us realize we really have to come out and play. And it made everyone's outlook on the season a lot different, I think.
WHAT'S IT GOING TO TAKE FOR THE TEAM TO BE SUCCESSFUL THE REST OF THE SEASON? To play as one team with one heartbeat and not just say it but actually say it and mean it, say with one heartbeat and then play with it.
INDIVIDUALLY, WHAT ABOUT YOUR GAME ARE YOU MOST CONFIDENT ABOUT? My aggressiveness and my footwork is, I think, better than it has been.
WHAT DO YOU WORK HARDEST TO IMPROVE? My attitude.
AFTER YOU'RE THROUGH PLAYING SOCCER AT BHS, WHAT DO YOU THINK YOU'LL REMEMBER MOST FONDLY ABOUT IT? Probably whenever Coach (Julie) Long first came in and how big of a transformation we had. We went from the team that everyone came to beat and now we're the team that people are trying to beat, not just an easy game anymore. We actually play to our level.