Editor's note: This is a regular feature profiling senior athletes at Bryant High School.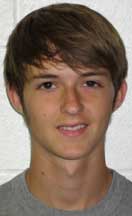 NAME: Caleb Lambert
PARENTS: Ricky and Carol Lambert
SIBLINGS: One sister; she's 22. Her name is Candice.
FAVORITE SUBJECT IN SCHOOL: Math
WHAT DO YOU LIKE TO DO IN YOUR SPARE TIME? Hunt and fish.
FAVORITE FOOD: Macaroni and cheese
FAVORITE MUSIC ARTIST OR GROUP: Kenny Chesney
FAVORITE MOVIE: Talladega Nights[more]
FAVORITE TV SHOW: That 70's Show
WHAT WAS YOUR FAVORITE TOY AS A KID? Legos
WHAT ARE YOUR PLANS AFTER HIGH SCHOOL? Go to college in Fayetteville and major in Electrical Engineering.
OTHER THAN YOUR PARENTS, WHO HAS HAD THE BIGGEST INFLUENCE ON YOUR LIFE? Probably my preacher, John White. He gives me advise all the time about life.
FAVORITE THING ABOUT SOCCER: Winning
POSITION: Forward
WHAT DO YOU FEEL LIKE IS YOUR PRIMARY RESPONSIBILITY ON THE FIELD? To score.
WHAT DO YOU THINK OF THE SEASON SO FAR? I think it's gone pretty good.
WHEN THE TEAM'S PLAYING WELL, WHAT'S IT DOING? We work together pretty good.
WHAT'S BEEN THE HIGHLIGHT OF THE SEASON SO FAR? Beating Russellville and Searcy.
WHAT'S IT GOING TO TAKE FOR THE TEAM TO BE SUCCESSFUL THE REST OF THE SEASON? To keep working together and hustling.
INDIVIDUALLY, WHAT ABOUT YOUR GAME ARE YOU MOST CONFIDENT ABOUT? I guess feeding the ball to people.
WHAT DO YOU WORK HARDEST TO IMPROVE? My shot.
AFTER YOU'RE THROUGH PLAYING SOCCER AT BHS, WHAT DO YOU THINK YOU'LL REMEMBER MOST FONDLY ABOUT IT? Probably two-mile Monday.