Editor's note: This is a regular feature profiling senior athletes at Bryant High School.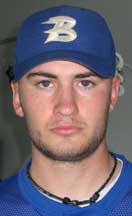 NAME: Caleb Milam
PARENTS: Russ and Quenna Milam
SIBLINGS: I have one sister, Alexa. She is 14.
FAVORITE SUBJECT IN SCHOOL: Probably Leadership
WHAT DO YOU LIKE TO DO IN YOUR SPARE TIME? Play COD, Call of Duty, on X-Box
FAVORITE FOOD: Crab legs
FAVORITE MUSIC ARTIST OR GROUP: A little bit of everything, probably Country
FAVORITE MOVIE: The Kingdom[more]
FAVORITE TV SHOW: Survivor
WHAT WAS YOUR FAVORITE TOY AS A KID? I had this truck and I had a boat hooked onto the back of it. I'd drive around my house with it. It was pretty cool.
WHAT ARE YOUR PLANS AFTER HIGH SCHOOL? I want to go to Arkansas Tech and play baseball and try to major in Criminal Justice.
OTHER THAN YOUR PARENTS, WHO HAS HAD THE BIGGEST INFLUENCE ON YOUR LIFE? My grandparents because they've been there every step of the way. They've been to most every ballgame. They're always there for me and everything
FAVORITE THING ABOUT BASEBALL: Pitching
POSITIONS: Pitcher
WHAT'S YOUR APPROACH TO THE GAME AS A PITCHER AND AT THE PLATE? Always get ahead of the batter. You've got to have that mean mentality when you get up on the mound. Batting, I'm just trying to hit line drives.
WHAT DO YOU THINK OF THE SEASON SO FAR? It's going pretty good. We've just got to keep up the intensity at practice, keep going and don't take one day off.
WHAT'S BEEN THE HIGHLIGHT TO THE SEASON SO FAR? Winning the tournament in Florida.
WHAT'S IT GOING TO TAKE FOR THE TEAM TO BE SUCCESSFUL THE REST OF THE SEASON? Like I said, practice, keep it intense, always go hard every play, don't give up.
INDIVIDUALLY, WHAT ABOUT YOUR GAME ARE YOU MOST CONFIDENT ABOUT? My pitching. WHAT DO YOU WORK HARDEST TO IMPROVE? Getting ahead in the count, throwing more strikes.
AFTER YOU'RE THROUGH PLAYING BASEBALL AT BHS, WHAT DO YOU THINK YOU'LL REMEMBER MOST FONDLY ABOUT IT? Probably how many hours we put into being here.