Editor's note: This is a regular feature profiling senior athletes at Bryant High School.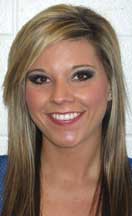 NAME: Callie Hogancamp
PARENTS: Darlene Hogancamp and Michael Hogancamp
SIBLINGS: I have a twin sister, Allie Hogancamp, and an older sister, Chanda Hill. Chanda is 28 and Allie and I are 18.
FAVORITE SUBJECT IN SCHOOL: Math
FAVORITE SPARE TIME ACTIVITY: Play with my dog — I just got a dog — and hang out with friends.
FAVORITE FOOD: Pancakes
FAVORITE MUSIC ARTIST OR GROUP: Brantley Gilbert[more]
FAVORITE MOVIE: The Notebook
FAVORITE TV SHOW: American Idol.
WHAT WAS YOUR FAVORITE TOY AS A KID? I don't even know. Me and Allie used to put balloons on our stomachs and wrestle. Does that count?
WHAT ARE YOUR PLANS AFTER HIGH SCHOOL? I'm going to Pharmacy School in St. Louis, the St. Louis College of Pharmacy.
OTHER THAN YOUR PARENTS, WHO'S HAD THE BIGGEST INFLUENCE ON YOUR LIFE? HOW? Probably my cousin, Kelsey. She's like one of my best friends and she's older and we hang out all the time. She's like an older sister to me and my best friend.
WHAT'S YOUR FAVORITE THING ABOUT BASKETBALL? I like the competitiveness and I like being like a family with the team.
WHAT'S YOUR FAVRORITE THING ABOUT TENNIS? It's the opposite. I like it because I'm on my own. It's all on me.
POSITION: Shooting guard.
WHAT DO YOU FEEL LIKE YOUR RESPONSIBILITIES ARE? First of all, I have to be a leader, like keep everybody as a team, playing together. And I'm just a shooter pretty much.
WHAT DO YOU THINK OF THE SEASON SO FAR? I think we're doing good. It's been tough having to sit out most of the season but I think it's been a good season to end on so far.
WHAT WAS THE PROBLEM THAT KEPT YOU OUT? I had a back problem. I have a bulging disk and a torn ligament in my back that I hurt at the beginning of the season so I haven't been playing. I think it was Huntsville in our Bentonville tournament. It's still there but I've done stuff that I can get through it.
TALK ABOUT YOUR TENNIS SEASON. I had a good season this year. I've been playing it since ninth grade and I've been the number one singles player since ninth grade. I'm going to play tennis in college too. I may get a little bit of a scholarship but it's a private college so it's not really like a signing thing. But I'll be playing up there too.
WHAT'S BEEN THE HIGHLIGHT TO THE BASKEBAALL SEASON SO FAR? The Sheridan game. It was my first game as a senior and I had 16 points, which was a real confidence booster for the start of the season.
WHAT'S IT GOING TO TAKE FOR THE TEAM TO BE SUCCESSFUL THE REST OF THE SEASON? We just have to play as a team, put other issues behind and just get on the court and play.
TALK ABOUT YOUR GAME NOW; WHAT ARE YOU MOST CONFIDENT IN YOUR ABILITY TO DO? Now that I'm back and shooting better, I just have to keep shooting. That's what I'm best at is shooting.
WHAT DO YOU WORK HARDEST TO IMPROVE ON IN PRACTICE? I like to play defense a lot. I'm a really hard worker on defense.
HOW ABOUT IN TENNIS, WHAT ARE YOU BEST AT IN TENNIS? I have a really hard serve in tennis and I'm quick because of basketball so that makes it easier in tennis. It makes me better in tennis.
WHAT DO YOU THINK IS SOMETHING YOU STILL NEED TO IMPROVE ON IN TENNIS? Probably just making my shots stronger and just playing stronger instead of just trying to win the point. Make more power shots, I guess.
WHEN YOU'RE THROUGH PLAYING BASKETBALL AT BRYANT HIGH SCHOOL, WHAT DO YOU THINK YOU'LL LOOK BACK AND REMEMBER MOST FONDLY ABOUT THE EXPERIENCE? I'll remember my teammates more than anything. I mean, they're my best friends. I wouldn't trade them for the world. They're here for me and I'm here for them. We've really bonded especially this year, since I'm the senior. Two managers are seniors but I mean me being on the team and on the court, it's just we've bonded so well. We're all together. I'm going to miss them a lot.