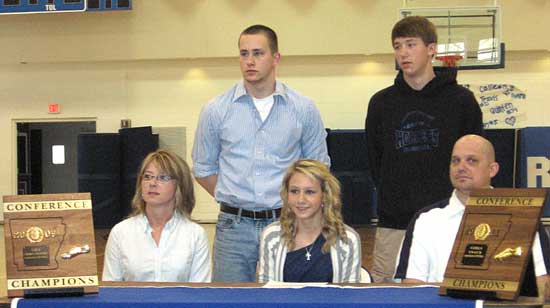 By Rob Patrick
When you look at all the athletes at a school like Bryant, sometimes it's interesting to hear what[more] got them to choose the sport they compete in. After all, most have tried their hand at most or all of them at one point or another.
Did they just decide they enjoyed one sport over another? Was it a family thing? Were they following in someone's footsteps? Was it the sport that their friends were involved it?
When Bryant senior Stacy Emmerling was asked about that, she probably had the most logical and perhaps most widely held reason for her choice.
"I tried other sports and I wasn't good at them," she said. "So I tried running and I didn't do so bad at it, so I just kept doing it. I started in eighth grade. It takes hard work but I've gotten a lot of good out of it."
Indeed, Emmerling, who has been a vital cog in the success of the Bryant Lady Hornets in cross country and track as a four-year letterman, has earned a scholarship to continue her cross country career and education at Henderson State University next fall.
With her parents, Mark and Tonya Emmerling and brothers Tracy and Justin on hand, she signed her letter of intent on Thursday.
"Stacy joins a long line of outstanding distance runners that have gained college scholarships through our program," noted Bryant girls track and cross country coach Danny Westbrook. "Her dedication, hard work, and commitment have made her a very successful high school athlete. Those attributes also have provided her this opportunity to continue competing along with pursuing a college degree."
Emmerling was named all-State twice and all-conference in the 7A-Central Conference a total of 10 times in various track events and cross country. She has helped Lady Hornets teams win three conference championships, the 2009 and 2010 titles in cross country and the 2010 crown in track and field.
The choice for Emmerling came down to HSU and Southern Arkansas University.
"I went to SAU," she said. "It was my other option. I went there and it was a really nice school. The team was really nice but I just didn't quite connect with them as much. So it wasn't as interesting to me. I chose Henderson instead.
"I went and visited them and they just seemed like a big happy family," she continued. "They all connected with me really well and talked to me. I had fun. They introduced me to all their friends and they just made me feel comfortable."
Emmerling is the second Lady Hornet runner to sign up with the Lady Reddies' program. Ashlyn Lessenberry will also be running at HSU.
"That'll be fun with me and her," she acknowledged.
Henderson State is a member of the NCAA Division II Great American Conference.
This Saturday, the Lady Hornets will compete in the State Indoor championship meet at the University of Arkansas in Fayetteville.
"I'll be running the 4×800 relay and the mile," Emmerling said. "Coach (Westbrook) took me out of the open 800, I think, to put more people in it but then I'm running in conference in the two-mile. So I'll be running in those and the two-mile this season."