Editor's note: This is a regular feature profiling senior athletes at Bryant High School.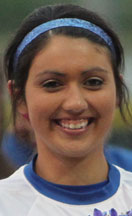 NAME: Carly Yazza
PARENTS: Aunna and Craig Yazza
SIBLINGS: I have three older brothers. One's 25, one's 24 and one is 21. Grant, Clark and Bryce.
FAVORITE SUBJECT IN SCHOOL: History
WHAT DO YOU LIKE TO DO IN YOUR SPARE TIME? Go to church and hang out with family and friends.
FAVORITE FOOD: Mexican
FAVORITE MUSIC ARTIST OR GROUP: Any kind of country music.[more]
FAVORITE MOVIE: A League Of Their Own
FAVORITE TV SHOW: NCIS
WHAT WAS YOUR FAVORITE TOY AS A KID? My Barbie jeep.
WHAT ARE YOUR PLANS AFTER HIGH SCHOOL? Going to OBU and play softball and become a teacher.
OTHER THAN YOUR PARENTS, WHO HAS HAD THE BIGGEST INFLUENCE ON YOUR LIFE? My older brothers. They've inspired me so much in different ways and led me to go to the right path.
FAVORITE THING ABOUT SOFTBALL: Probably the team and getting to know the girls and just all becoming a family, just being there for each other and the team.
POSITION: Left field
WHAT'S YOUR APPROACH AT THE PLATE? I try to imagine myself in the cages with my dad and it's just me and my dad hitting. It's just hitting practice. I just try to stay relaxed and act like it's hitting practice.
WHAT'S YOUR APPROACH IN THE FIELD? I look around and see how many outs, of course, and the runners on base. I just think about where I'm going if the ball's hit to me.
WHAT DO YOU THINK OF THE SEASON SO FAR? We've had a few ups and downs in the season but I feel like the downs have only motivated us to work harder and, hopefully, go after that four-peat.
WHEN THE TEAM'S PLAYING WELL, WHAT'S GOING ON? I think, really, our confidence in ourselves. And, if we make an error or we get down, we're there to pick each other up. I think that's a major part when we do good.
WHAT'S BEEN THE HIGHLIGHT TO THE SEASON SO FAR? Probably, you know, us being such a young team coming together. I really feel like the freshmen have played a huge part in this year. I think that was the big highlight for us.
WHAT'S IT GOING TO TAKE FOR THE TEAM TO BE SUCCESSFUL THE REST OF THE WAY? I feel like it's more mental right now with us. I feel like our approach at the plate or in the field, I just feel like our confidence needs to grow and our team unity on the field and our communication needs to come together more. And I feel like after we have that, we'll be good to go.
TALK ABOUT YOUR GAME. WHAT ARE YOU MOST CONFIDENT IN YOUR ABILITY TO DO? Play in the outfield, reading the balls out there. I think I do that really well.
WHAT DO YOU WORK HARDEST IN PRACTICE TO IMPROVE ON? My hitting and my confidence and my mentality as I approach the plate.
AFTER YOU'RE THROUGH PLAYING SOFTBALL AT BHS, WHAT DO YOU THINK YOU'LL REMEMBER MOST FONDLY ABOUT IT? Well, of course, the State championships but, other than that, just the girls on the team. They've all been my best friends. I've been so close to them. I'll never forget those relationships that I built.