Editor's note: This is a regular feature profiling senior athletes at Bryant High School.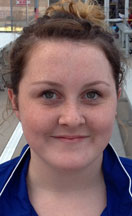 NAME: Catarena Falco
PARENTS: John and Angela Falco
SIBLINGS: Anastasia, 19; Alexander, 14
FAVORITE SUBJECT IN SCHOOL: Human Anatomy
FAVORITE SPARE TIME ACTIVITY: Watching movies
FAVORITE FOOD: Chicken
FAVORITE MUSIC ARTIST OR GROUP: AWOLnation
FAVORITE MOVIE: Pitch Perfect[more]
FAVORITE TV SHOW: Supernatural
WHAT WAS YOUR FAVORITE TOY WHEN YOU WERE A KID? Baby dolls
WHAT ARE YOUR PLANS AFTER HIGH SCHOOL? College, science, pre-med
OTHER THAN YOUR PARENTS, WHO'S HAD THE BIGGEST INFLUENCE ON YOUR LIFE? HOW? My sister, not to get married and move to another state.
WHAT'S YOUR FAVORITE THING ABOUT SWIMMING? Competing
WHAT IS/ARE YOUR EVENT(S): 100 back
WHAT'S YOUR APPROACH TO YOUR EVENTS? Beat my previous time.
WHAT DO YOU THINK OF THE SEASON SO FAR? It's okay.
WHAT'S BEEN THE HIGHLIGHT TO THE SEASON SO FAR? Swimming the 500
WHAT'S IT GOING TO TAKE FOR THE TEAM TO BE SUCCESSFUL THE REST OF THE SEASON? Practice
TALK ABOUT YOUR SWIMMING NOW; WHAT ARE YOU MOST CONFIDENT IN YOUR ABILITY TO DO? Swim
WHAT DO YOU WORK HARDEST TO IMPROVE ON IN PRACTICE? My times
WHEN YOU'RE THROUGH SWIMMING FOR BRYANT HIGH SCHOOL, WHAT DO YOU THINK YOU'LL LOOK BACK AND REMEMBER MOST FONDLY ABOUT THE EXPERIENCE? The other people; the friendships I've made.