Editor's note: This is a regular feature profiling senior athletes at Bryant High School.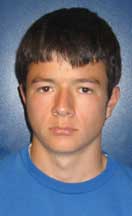 NAME: Daniel Tucker
DATE OF BIRTH: April 5, 1992
PARENTS: Kelly and Beverly Tucker
SIBLINGS: I have an older sister, Lindsey. She's 19.
FAVORITE SUBJECT IN SCHOOL: History
WHAT DO YOU LIKE TO DO IN YOUR SPARE TIME? Sleep.
FAVORITE FOOD: Chinese
FAVORITE MUSIC ARTIST OR GROUP: 38 Special[more]
FAVORITE MOVIE: Saving Private Ryan.
FAVORITE TV SHOW: The Office
WHAT WAS YOUR FAVORITE TOY AS A KID? Tonka trucks.
WHAT ARE YOUR PLANS AFTER HIGH SCHOOL? I'm going to Harding for a Finance or Accounting degree.
OTHER THAN YOUR PARENTS, WHO HAS HAD THE BIGGEST INFLUENCE ON YOUR LIFE? My Youth Pastor, Danny Stockstill. He's been a great leader and showed me the ways of God.
FAVORITE THING ABOUT SOCCER: It's totally a good sport to play. It's a lot of fun.
POSITION: Defense.
WHAT DO YOU FEEL LIKE IS YOUR PRIMARY RESPONSIBILITY ON THE FIELD? Preventing a goal.
WHAT DO YOU THINK OF THE SEASON SO FAR? We're doing pretty good. We've been working together a lot better than normal.
WHAT'S BEEN THE HIGHLIGHT TO THE SEASON SO FAR? Scoring a goal at Texarkana.
WHAT'S IT GOING TO TAKE FOR THE TEAM TO BE SUCCESSFUL THE REST OF THE SEASON? Keep working hard, control the ball.
INDIVIDUALLY, WHAT ABOUT YOUR GAME ARE YOU MOST CONFIDENT ABOUT? I defend pretty good.
WHAT DO YOU WORK HARDEST TO IMPROVE? Touch work.
AFTER YOU'RE THROUGH PLAYING SOCCER AT BHS, WHAT DO YOU THINK YOU'LL REMEMBER MOST FONDLY ABOUT IT? Scoring a goal.