Editor's note: This is a regular feature profiling senior athletes at Bryant High School.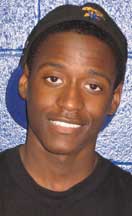 NAME: Deaunte Patterson
PARENTS: Melinda Lewis and Danny Patterson
SIBLINGS: I have three sisters. Satedra Patterson is 24 years old. Tenia Patterson is 20 years old and Mya Lewis is 10.
FAVORITE SUBJECT IN SCHOOL: History
FAVORITE SPARE TIME ACTIVITY: Play basketball and work out.
FAVORITE FOOD: Pizza.
FAVORITE MUSIC ARTIST OR GROUP: Drake and a little bit of Justin Bieber.
FAVORITE MOVIE: That's hard. I'd probably say Remember The Titans.[more]
FAVORITE TV SHOW: Whatever's on VH1.
WHAT WAS YOUR FAVORITE TOY AS A KID? Hot Wheels
WHAT ARE YOUR PLANS AFTER HIGH SCHOOL? I'm going to college at UCA, business, business management, finance
OTHER THAN YOUR PARENTS, WHO'S HAD THE BIGGEST INFLUENCE ON YOUR LIFE? HOW? My sister, Tenia. She's like actually my only whole sibling and she's been there my entire life. We just support each other through anything.
WHAT'S YOUR FAVORITE THING ABOUT TRACK? The workout. I love working out period.
EVENT? The 400.
WHAT APPROACH DO YOU TAKE TO YOUR EVENTS? I just focus in on what I have to do. I don't worry about the people around me or my opponent, just thinking about what happening next.
WHAT DO YOU THINK OF THE SEASON SO FAR? We've been better but we're still a team and I love all of them.
WHAT'S BEEN THE HIGHLIGHT TO THE SEASON SO FAR? Probably our home meet. We enjoyed that meet as we do every year.
WHAT'S IT GOING TO TAKE FOR THE TEAM TO BE SUCCESSFUL THE REST OF THE SEASON? Just remember the workout and how hard they worked to get to that point and continue doing what they do.
TALK ABOUT YOUR EVENT NOW; WHAT DO THINK IS YOUR BIGGEST ASSET? WHAT ARE YOU MOST CONFIDENT IN YOUR ABILITY TO DO? I'm able to keep focused, keep my strike, keep my pace.
WHAT DO YOU WORK HARDEST IN PRACTICE TO IMPROVE ON? My speed and my ability to keep up with others.
WHEN YOU'RE THROUGH RUNNING TRACK AT BRYANT HIGH SCHOOL, WHAT DO YOU THINK YOU'LL LOOK BACK AND REMEMBER MOST FONDLY ABOUT THE EXPERIENCE? My 11th grade year. That's the year that I could see us being a complete team. During my 12th grade year, we added new members but they also became part of the family.