Editor's note: This is a regular feature profiling senior athletes at Bryant High School.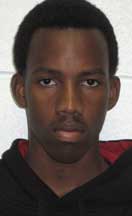 NAME: Derrick Dogan
PARENTS: Dedra Castle and Terry Dogan
SIBLINGS: None
FAVORITE SUBJECT IN SCHOOL: Math
FAVORITE SPARE TIME ACTIVITY: Watch TV, hang out, sleep and play X-Box 360.
FAVORITE FOOD: Fish or chicken.
FAVORITE MUSIC ARTIST OR GROUP: It was Li'l Wayne, now it's 2Chanz.[more]
FAVORITE MOVIE: Man On Fire
FAVORITE TV SHOW: The Boondocks
WHAT WAS YOUR FAVORITE TOY AS A KID? Probably Power Rangers toys.
WHAT ARE YOUR PLANS AFTER HIGH SCHOOL? I'm going to college at Central Florida. I wanted to run track but they don't have a track team so I'll probably do AAU track in college. I want to major in Journalism and become a sportswriter in the near future.
OTHER THAN YOUR PARENTS, WHO'S HAD THE BIGGEST INFLUENCE ON YOUR LIFE? HOW? Before she died, my grandma. Everything I did, I did for her.WHAT'S YOUR
FAVORITE THING ABOUT TRACK? The people and the coaches around it. The coaches are great and the people are fun and encouraging.
EVENTS? I do the long jump, the triple jump, the open 400, the 4×100 and the 4×400.
WHAT APPROACH DO YOU TAKE TO YOUR EVENTS? For the jumps, I do squats and I do a lot of run-throughs in practice to get stronger in my legs. I do push-ups too to get bigger upper body. For sprints, I run a lot of 200s because it's all about finishing. So the last 200 is the biggest part. I just do a lot of sprints, a lot of 200s.
WHAT DO YOU THINK OF THE SEASON SO FAR? The season's actually going pretty well. We have been without one of our best runner. We've still be placing in the top 10 so I have a feeling when he's back and healthy we'll be in the top three.
WHAT'S BEEN THE HIGHLIGHT TO THE SEASON SO FAR? The people that have stepped up from last year. The people that weren't really placing last year including myself; just everyone that's been able to set personal records and help us achieve points this year.
WHAT'S IT GOING TO TAKE FOR THE TEAM TO BE SUCCESSFUL AT CONFERENCE AND STATE? Hard work and determination. Everyone needs to be focused.
TALK ABOUT YOUR EVENTS NOW; WHAT DO THINK IS YOUR BIGGEST ASSET? WHAT ARE YOU MOST CONFIDENT IN YOUR ABILITY TO DO? My strengths are the long jumps and the 400. That came from hard work and practicing.
WHAT DO YOU WORK HARDEST IN PRACTICE TO IMPROVE ON? Focusing, being focused
WHEN YOU'RE THROUGH RUNNING TRACK AT BRYANT HIGH SCHOOL, WHAT DO YOU THINK YOU'LL LOOK BACK AND REMEMBER MOST FONDLY ABOUT THE EXPERIENCE? Coach (Steve) Oury and Coach (Brad) Stroud, two of the greatest coaches that I've ever had in any sport. They believe in me and they make me strive to be good.