Editor's note: This is a regular feature profiling senior athletes at Bryant High School.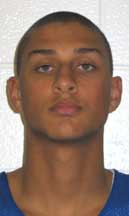 NAME: Dontay Renuard
DATE OF BIRTH: Jan. 12, 1992
PARENTS: Tracy and Charles Underwood
SIBLINGS: I'm an only child
FAVORITE SUBJECT IN SCHOOL: Math
FAVORITE SPARE TIME ACTIVITY: Play video games or hang out with friends
FAVORITE FOOD: Chinese.
FAVORITE MUSIC ARTIST OR GROUP: I don't really have a favorite. I just listen to anything.[more]
FAVORITE MOVIE: Saving Private Ryan
FAVORITE TV SHOW: Family Guy
WHAT WAS YOUR FAVORITE TOY AS A KID? I'd say one of those big old Transformers. I remember having one of those and playing with it.
WHAT ARE YOUR PLANS AFTER HIGH SCHOOL? I want to go to college and I want to be a coach or just do something with sports. I'm going to U of A.
OTHER THAN YOUR PARENTS, WHO'S HAD THE BIGGEST INFLUENCE ON YOUR LIFE? HOW? I'd have to say like a bunch of NBA players, like Dwayne Wade. Just to see what they went through in their childhood. My biggest influence is probably Chris Paul because of how he lived his life in high school and his childhood, what he went through and how he turned out now.
WHAT'S YOUR FAVORITE THING ABOUT BASKETBALL? Just playing.
POSITION: Forward
WHAT DO YOU FEEL LIKE YOUR RESPONSIBILITIES ARE ON THE FLOOR? Score and make plays.
WHAT DO YOU THINK OF THE SEASON SO FAR? We're actually doing pretty good, I think, better than we've been doing.
WHEN THE TEAM'S PLAYING WELL, WHAT'S IT DOING? We're actually becoming a team, better than we have been. We're talking to each other more, so we're actually becoming a team.
WHAT'S BEEN THE HIGHLIGHT TO THE SEASON SO FAR? I would say just winning games.
WHAT'S IT GOING TO TAKE FOR THE TEAM TO BE SUCCESSFUL THE REST OF THE SEASON? We've got to stay focused and stay together. We can't be trying to do one-man shows. It's got to be everybody.
TALK ABOUT YOUR GAME NOW; WHAT ARE YOU MOST CONFIDENT IN YOUR ABILITY TO DO? I'd say shooting, scoring.
WHAT DO YOU WORK HARDEST TO IMPROVE ON IN PRACTICE? My defense.
WHEN YOU'RE THROUGH PLAYING BASKETBALL AT BRYANT HIGH SCHOOL, WHAT DO YOU THINK YOU'LL LOOK BACK AND REMEMBER MOST FONDLY ABOUT THE EXPERIENCE? The people I was with and the coaches, just all we went through.