Editor's note: This is a regular feature profiling senior athletes at Bryant High School.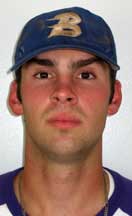 NAME: Dylan Cross
PARENTS: Loretta Smith and my stepdad is Kelly Smith; my father is Jim Cross and my step-mom is Karen Cross.
SIBLINGS: Jake is 20 and Zach's 21.
FAVORITE SUBJECT IN SCHOOL: History
WHAT DO YOU LIKE TO DO IN YOUR SPARE TIME? Fish
FAVORITE FOOD: Mexican
FAVORITE MUSIC ARTIST OR GROUP: Country
FAVORITE MOVIE: Bull Durham[more]
FAVORITE TV SHOW: Any type of "Law & Order"
WHAT WAS YOUR FAVORITE TOY AS A KID? Probably a little monster truck
WHAT ARE YOUR PLANS AFTER HIGH SCHOOL? I'm going to go to Meridian Community College and I want to study Kineseology.
OTHER THAN YOUR PARENTS, WHO HAS HAD THE BIGGEST INFLUENCE ON YOUR LIFE? Definitely Coach (Kirk) Bock; not only how to act on the field and how to act outside of baseball, but how to carry yourself.
FAVORITE THING ABOUT BASEBALL: I'm with my family every day, I guess you could say. I spend more time with these guys than I do my own family. It's like every day being with your family. And once you get out here, it's like there's not another worry in the world, nothing else matters besides the guys next to you whenever you step between the lines.
POSITIONS: Pitcher and DH

WHAT'S YOUR APPROACH AT THE PLATE? One thing that I'm really working on right now is letting it get deep, trying to hit it the other way and try to get my timing to where it's pretty good. That's been my biggest problem this year, my timing.
WHAT'S YOUR APPROACH ON THE MOUND? Twenty-one outs, let my defense get 80 percent of them and I can strike out a few.
WHAT PITCHES DO YOU THROW? Fastball — a two-seam and a four-seam — curveball and change-up.
WHAT'S YOUR FAVORITE PITCH? Probably the two-seam, when it's moving.
WHAT DO YOU THINK OF THE SEASON SO FAR? I think we've done good. I thing we've had a few hiccups here and there, which were our losses, which we shouldn't have had. I think we could've easily gone undefeated but you can't say, 'What if', you've got to move to the next game so I think we're ready for Cabot, ready for Lake Hamilton, then the playoffs.
WHAT'S BEEN THE HIGHLIGHT TO THE SEASON SO FAR? How our defense has stepped up and how other pitchers have stepped up and instead of waiting for it to just fall into their hands, they're saying, 'Hey, I want it. I want to throw this game.' And our defense is saying, 'Hey, I want to back this guy up.' Our pitchers and defense are really taking charge. They're doing a great job. I think that's been one of the top highlights that I've seen.
WHAT'S IT GOING TO TAKE FOR THE TEAM TO BE SUCCESSFUL THE REST OF THE SEASON? Pitching and defense, definitely, which have been there. We've been pretty solid there. We're definitely going to have to — we're getting hits, it's just that we need to get hits in certain situations. When we get guys in scoring position, that's been a tough thing for us. We've been leaving a lot of guys in scoring position in clutch moments. I think once we start banging it around a little when they're in scoring position, it's going to be hard to beat us.
TALK ABOUT YOUR GAME. WHAT ARE YOU MOST CONFIDENT IN YOUR ABILITY TO DO? Pitch; I'm getting my confidence back at the plate and I think that's one of the big things that I was missing. But I've had confidence on the mound. And it's not that I'm going to throw the ball the hardest. It's not that I'm going to throw the best curveball, because I don't. It's because I've got nine guys that are probably the top nine players in the state, I think, defensively. I'm not worried about where anybody's going to hit it because I know my defense is going to make the play.
WHAT DO YOU WORK HARDEST IN PRACTICE TO IMPROVE ON? I work on everything but I do spend extra time on hitting because that's what I'm struggling at a little bit right now.
AFTER YOU'RE THROUGH PLAYING BASEBALL AT BHS, WHAT DO YOU THINK YOU'LL REMEMBER MOST FONDLY ABOUT IT? The coaches and the guys that I've played with; I think it's one of those deals that's like you're not going to forget those guys that stood beside you at 5:30 in the morning, those guys that stood beside you when we came up short in the State championship game and when we won the State championship game. You're going to remember those guys that were standing beside you, the coaches that were standing beside you. That's what I'm going to remember most. I'm not going to remember losing to Conway. I'm not going to remember beating Conway. I'm going to remember those guys next to me.