Editor's note: This is a regular feature profiling senior athletes at Bryant High School.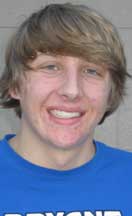 NAME: Dylan Rogers
PARENTS: Jimmy and Lynda Rogers
SIBLINGS: none
FAVORITE SUBJECT IN SCHOOL: Physics
FAVORITE SPARE TIME ACTIVITY: Playing guitar
FAVORITE FOOD: Pasta
FAVORITE MUSIC ARTIST OR GROUP: Foo Fighters
FAVORITE MOVIE: Shawshank Redemption[more]
FAVORITE TV SHOW: Fringe
WHAT WAS YOUR FAVORITE TOY WHEN YOU WERE A KID? Buzz Lightyear action figure
WHAT ARE YOUR PLANS AFTER HIGH SCHOOL? Major in Physics at Hendrix College.
OTHER THAN YOUR PARENTS, WHO'S HAD THE BIGGEST INFLUENCE ON YOUR LIFE? HOW? My 11th grade English teacher, Nancy Ward. She taught me to have an open mind toward everything.
WHAT'S YOUR FAVORITE THING ABOUT SWIMMING? The feeling of accomplishment after a great race.
EVENT(S): 200 IM, 100 butterfly
APPROACH TO YOUR EVENTS? I try to work on my stamina mostly; maintaining speed is much more difficult than finding the initial burst.
WHAT DO YOU THINK OF THE SEASON SO FAR? I've had a good season and our team is very strong.
WHAT'S BEEN THE HIGHLIGHT TO THE SEASON SO FAR (team)? Winning the meet at Bishop Park.
WHAT'S BEEN THE HIGHLIGHT TO THE SEASON SO FAR (personal)? My 1:02.23 butterfly time.
WHAT'S IT GOING TO TAKE FOR THE TEAM TO BE SUCCESSFUL THE REST OF THE SEASON? Continue to work hard in practice and swim strong in meets.
TALK ABOUT YOUR SWIMMING NOW; WHAT ARE YOU MOST CONFIDENT IN YOUR ABILITY TO DO? Sprint, my raw speed is very solid.
WHAT DO YOU WORK HARDEST TO IMPROVE ON IN PRACTICE? My stamina, especially in the butterfly.
WHEN YOU'RE THROUGH SWIMMING FOR BRYANT HIGH SCHOOL, WHAT DO YOU THINK YOU'LL LOOK BACK AND REMEMBER MOST FONDLY ABOUT THE EXPERIENCE? Hopefully, a district championship three-peat; then, my team will have won district every year that I have swam for it.