Editor's note: This is a regular feature profiling senior athletes at Bryant High School.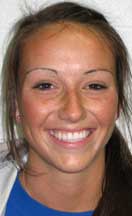 NAME: Dylan Vail
PARENTS: Mark and Tracey Vail
SIBLINGS: I have two brothers, Cameron and Austin Vail. Cameron is 11 and Austin is 14.
FAVORITE SUBJECT IN SCHOOL: Math and Science
WHAT DO YOU LIKE TO DO IN YOUR SPARE TIME? I like to go Mi Ranchito and eat Arroz Mi Pueblito.
FAVORITE FOOD: Arroz Mi Pueblito
FAVORITE MUSIC ARTIST OR GROUP: Lexie Balisterri.
FAVORITE MOVIE: I really like Fat Albert.[more]
FAVORITE TV SHOW: DeGrassi
WHAT WAS YOUR FAVORITE TOY AS A KID? I'm going to have to go with Polly Pocket.
WHAT ARE YOUR PLANS AFTER HIGH SCHOOL? Go to college at the University of Arkansas in Fayetteville, pre-med.
OTHER THAN YOUR PARENTS, WHO HAS HAD THE BIGGEST INFLUENCE ON YOUR LIFE? Probably my Grandpa because he's just a really big Christian and he pushes me to be a better person and he's gotten so far in life. So it just makes we want to go as far as he has.
FAVORITE THING ABOUT SOCCER: Scoring a goal or a really good assist.
POSITION: I'm a flank or you could say a wing or you could say a mid-fielder. They're all the same.
WHAT DO YOU FEEL LIKE IS YOUR PRIMARY RESPONSIBILITY ON THE FIELD? Running all over the place, back and down the field. I have to get back.
WHAT DO YOU THINK OF THE SEASON SO FAR? I think we have great potential. We're going to be a really, really good team. We haven't pulled together completely but we're about to. I can feel it.
WHEN THE TEAM'S PLAYING WELL, WHAT'S IT DOING? We're just connecting all of our passes and we're kicking the ball with purpose.
WHAT'S BEEN THE HIGHLIGHT TO THE SEASON SO FAR? I think, wearing our super cool jerseys to the Benton game. They're nice and retro. That was fun.
WHAT'S IT GOING TO TAKE FOR THE TEAM TO BE SUCCESSFUL THE REST OF THE SEASON? We just have to give 100 percent every game. We have a problem with not playing our best. We play down to the other team's level. We need to play our game and do that every game.
INDIVIDUALLY, WHAT ABOUT YOUR GAME ARE YOU MOST CONFIDENT ABOUT? Getting back. I'm really good at getting back.
WHAT DO YOU WORK HARDEST TO IMPROVE? My shooting. It's kind of crazy.
AFTER YOU'RE THROUGH PLAYING SOCCER AT BHS, WHAT DO YOU THINK YOU'LL REMEMBER MOST FONDLY ABOUT IT? Probably how close our team is. Everybody gets along so well and I think that's what I appreciate the most. That's what I'll remember.