Editor's note: This is a regular feature profiling senior athletes at Bryant High School.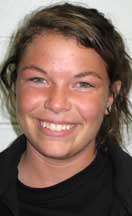 NAME: Erica Selig
PARENTS: Kim and Rick Selig
SIBLINGS: I have a sister Kendall and she's 12.
FAVORITE SUBJECT IN SCHOOL: Math and Science
WHAT DO YOU LIKE TO DO IN YOUR SPARE TIME? Definitely hang out with friends and family. Family's a big part of my life.
FAVORITE FOOD: Shrimp Alfredo
FAVORITE MUSIC ARTIST OR GROUP: Any Country music
FAVORITE MOVIE: Country Strong[more]
FAVORITE TV SHOW: Grey's Anatomy
WHAT WAS YOUR FAVORITE TOY AS A KID? A Skip-It.
WHAT ARE YOUR PLANS AFTER HIGH SCHOOL? To go to Baptist Health College to study pre-med
OTHER THAN YOUR PARENTS, WHO HAS HAD THE BIGGEST INFLUENCE ON YOUR LIFE? My coaches because they've taught me to push even though you're told you can't and make it to the top.
FAVORITE THING ABOUT SOCCER: Winning, of course.
POSITION: Wing.
WHAT DO YOU FEEL LIKE IS YOUR PRIMARY RESPONSIBILITY ON THE FIELD? Getting the ball to the forwards to allow a scoring opportunity.
WHAT DO YOU THINK OF THE SEASON SO FAR? We have a lot of gaps but when we fill the spaces we'll all come together.
WHEN THE TEAM'S PLAYING WELL, WHAT'S IT DOING? Communicating, giving 100 percent, listening to each, not just playing our own game.
WHAT'S BEEN THE HIGHLIGHT TO THE SEASON SO FAR? I think that the Mount (St. Mary) game is going to be our turning point.
WHAT'S IT GOING TO TAKE FOR THE TEAM TO BE SUCCESSFUL THE REST OF THE SEASON? Fill the gaps and give everything like it's your last game because it can be.
INDIVIDUALLY, WHAT ABOUT YOUR GAME ARE YOU MOST CONFIDENT ABOUT? Shooting.
WHAT DO YOU WORK HARDEST TO IMPROVE? Playing with speed.
AFTER YOU'RE THROUGH PLAYING SOCCER AT BHS, WHAT DO YOU THINK YOU'LL REMEMBER MOST FONDLY ABOUT IT? Our teamwork and one heart.