Editor's note: This is a regular feature profiling senior athletes at Bryant High School.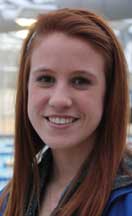 NAME: Erin Moser
PARENTS: Robert and Kandee Moser
SIBLINGS: 12-year-old sister Kara
FAVORITE SUBJECT IN SCHOOL: none
FAVORITE SPARE TIME ACTIVITY: none
FAVORITE FOOD: Italian
FAVORITE MUSIC ARTIST OR GROUP: Jason Aldean
FAVORITE MOVIE:[more] none
FAVORITE TV SHOW: Law & Order
WHAT ARE YOUR PLANS AFTER HIGH SCHOOL? Dental Hygiene
OTHER THAN YOUR PARENTS, WHO'S HAD THE BIGGEST INFLUENCE ON YOUR LIFE? HOW? none
WHAT'S YOUR FAVORITE THING ABOUT SWIMMING? I love it and I have done it for 13 years.
EVENT(S): 200 medley relay, 50 free, 100 fly, 400 free relay, and 200 free relay.
APPROACH TO YOUR EVENTS? To try as hard as I can to win and earn points for the team.
WHAT DO YOU THINK OF THE SEASON SO FAR? no answer
WHAT'S BEEN THE HIGHLIGHT TO THE SEASON SO FAR (team)? Making new friends, being able to work as a team and help each other get pumped up for our races.
WHAT'S BEEN THE HIGHLIGHT TO THE SEASON SO FAR (personal)? none
WHAT'S IT GOING TO TAKE FOR THE TEAM TO BE SUCCESSFUL THE REST OF THE SEASON? To work as a team and to work hard in practice.
TALK ABOUT YOUR SWIMMING NOW; WHAT ARE YOU MOST CONFIDENT IN YOUR ABILITY TO DO? To pull through for the team when I set my mind to it.
WHAT DO YOU WORK HARDEST TO IMPROVE ON IN PRACTICE? My endurance and to get faster.
WHEN YOU'RE THROUGH SWIMMING FOR BRYANT HIGH SCHOOL, WHAT DO YOU THINK YOU'LL LOOK BACK AND REMEMBER MOST FONDLY ABOUT THE EXPERIENCE? I will remember that I was involved in a program that is soon to grow really big and become a great team.