Editor's note: This is a regular feature profiling senior athletes at Bryant High School.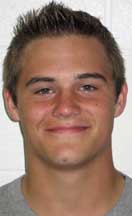 NAME: Forrest Fowler
PARENTS: Paul and Diana Fowler
SIBLINGS: I have four. Tonya is 26, Julie's 20, Amy's 11 and Nick's 9.
FAVORITE SUBJECT IN SCHOOL: History
WHAT DO YOU LIKE TO DO IN YOUR SPARE TIME? Hang out with friends, just chill.
FAVORITE FOOD: Italian
FAVORITE MUSIC ARTIST OR GROUP: Bullet For My Valentine
FAVORITE MOVIE: I don't really watch movies that much.[more]
FAVORITE TV SHOW: CSIWHAT WAS YOUR FAVORITE TOY AS A KID? Legos
WHAT ARE YOUR PLANS AFTER HIGH SCHOOL? I'm going to Williams Baptist to play soccer. I sign with them on Monday. I'm going to be a History major.
OTHER THAN YOUR PARENTS, WHO HAS HAD THE BIGGEST INFLUENCE ON YOUR LIFE? Probably Coach (Jason) Hay. He's been there for me. All four years he's been there no matter what. He's like a father-figure.
FAVORITE THING ABOUT SOCCER: Just the team, how we're so close.
POSITION: Defense
WHAT DO YOU FEEL LIKE IS YOUR PRIMARY RESPONSIBILITY ON THE FIELD? Just hold up the back line, make sure they don't score.
WHAT DO YOU THINK OF THE SEASON SO FAR? We could be better but we're doing all right.
WHEN THE TEAM'S PLAYING WELL, WHAT'S IT DOING? A lot of communication, everyone's getting along.
WHAT'S BEEN THE HIGHLIGHT OF THE SEASON SO FAR? Beating Searcy at their home field.
WHAT'S IT GOING TO TAKE FOR THE TEAM TO BE SUCCESSFUL THE REST OF THE SEASON? Just more communication, working together; like don't be lazy, hustle all the time.
INDIVIDUALLY, WHAT ABOUT YOUR GAME ARE YOU MOST CONFIDENT ABOUT? Distributing the ball.
WHAT DO YOU WORK HARDEST TO IMPROVE? Probably shooting.
AFTER YOU'RE THROUGH PLAYING SOCCER AT BHS, WHAT DO YOU THINK YOU'LL REMEMBER MOST FONDLY ABOUT IT? Just all the good times we've had, even though we lose we all just laugh about it. Everyone's cool with each other. No one's mad. Just all the friendship out here.