Editor's note: This is a regular feature profiling senior athletes at Bryant High School.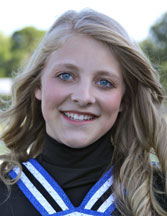 NAME: Haley Blumfelder
PARENTS' NAMES: Kurt and Leslie
SIBLINGS (NAMES/AGES): Alex, 28; Cara, 30
FAVORITE SUBJECT IN SCHOOL: Science
FAVORITE SPARE TIME ACTIVITY: Dance
FAVORITE FOOD: Chicken Alfredo
FAVORITE MUSIC ARTIST OR GROUP: Taylor Swift
FAVORITE MOVIE: The Notebook[more]
FAVORITE TV SHOW: Spongebob
WHAT WAS YOUR FAVORITE TOY AS A KID? My doll
WHAT ARE YOUR PLANS AFTER HIGH SCHOOL? Attend college and major in pre-med, continue to med school to become a pediatrician.
OTHER THAN YOUR PARENTS, WHO HAS HAD THE BIGGEST INFLUENCE ON YOUR LIFE? HOW?
My dance coaches. I'm always dancing and they help teach me life lessons about hard work and time management
FAVORITE THING ABOUT DANCE:
Seeing improvement individually and as a team
WHAT DO YOU FEEL IS YOUR REPONSIBILITY ON THE TEAM?
Helping to be a hard-working role model.

THOUGHTS ON SEASON SO FAR:
Great season so far. The team is really close this year.
WHAT'S BEEN THE HIGHLIGHT TO THE SEASON SO FAR?
Winning State.
WHAT'S IT GOING TO TAKE FOR THE TEAM TO BE SUCCESSFUL AT NATIONALS?
Keeping positive, always working hard, working together.
INDIVIDUALLY, WHAT ABOUT YOUR PERFORMANCES ARE YOU MOST CONFIDENT ABOUT?
My turns and hitting my tricks.
WHAT DO YOU WORK HARDEST TO IMPROVE?
My jumps

AFTER YOU'RE THROUGH DANCING/CHEERING AT BHS, WHAT DO YOU THINK YOU'LL REMEMBER MOST FONDLY ABOUT IT? Winning State, dancing at Nationals, my teammates.