Editor's note: This is a regular feature profiling senior athletes at Bryant High School.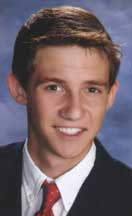 NAME: Jake Tipton
PARENTS: Chris Tipton and Paula Thompson
SIBLINGS: Drew Tipton, 14, and Chance Thompson, 4
FAVORITE SUBJECT IN SCHOOL: Anatomy
FAVORITE SPARE TIME ACTIVITY: Sleep
FAVORITE FOOD: Hot Pockets
FAVORITE MUSIC ARTIST OR GROUP: Drake and The Weekend
FAVORITE MOVIE: Too many to decide[more]
FAVORITE TV SHOW: Ridiculousness
WHAT WAS YOUR FAVORITE TOY WHEN YOU WERE A KID? My Power Ranger action figures
WHAT ARE YOUR PLANS AFTER HIGH SCHOOL? I plan to go to ASU and study law to one day become a lawyer.
OTHER THAN YOUR PARENTS, WHO'S HAD THE BIGGEST INFLUENCE ON YOUR LIFE? HOW? My brother Drew has been with me through a lot and he has helped me with many important decisions in my life. He's just always been there for me.
WHAT'S YOUR FAVORITE THING ABOUT SWIMMING? The adrenaline rush I get when racing.
EVENT(S): 200 medley relay, 50 free, 100 free, 400 freestyle relay
APPROACH TO YOUR EVENTS? I just want to swim hard and swim fast. My goal is to beat my fastest times.
WHAT DO YOU THINK OF THE SEASON SO FAR? It's been great. I love my team. They all work hard to push themselves and we've all had a lot of fun this year.
WHAT'S BEEN THE HIGHLIGHT TO THE SEASON SO FAR (team)? It's always a highlight when we win the meet and also some of our relay teams who were expected to lose pulled through and won. That's always exciting to see or be a part of.
WHAT'S BEEN THE HIGHLIGHT TO THE SEASON SO FAR (personal)? Getting under a minute on my 100 free at the Hendrix meet.
WHAT'S IT GOING TO TAKE FOR THE TEAM TO BE SUCCESSFUL THE REST OF THE SEASON? To just keep pushing ourselves and be hungry to win.
TALK ABOUT YOUR SWIMMING NOW; WHAT ARE YOU MOST CONFIDENT IN YOUR ABILITY TO DO? I'm most confident in my ability to close a gap during a relay. In other words, catching up to help us win.
WHAT DO YOU WORK HARDEST TO IMPROVE ON IN PRACTICE? My flip turns
WHEN YOU'RE THROUGH SWIMMING FOR BRYANT HIGH SCHOOL, WHAT DO YOU THINK YOU'LL LOOK BACK AND REMEMBER MOST FONDLY ABOUT THE EXPERIENCE? The feeling of working for something and finally getting it. Also, the fun I had with my team at practice and the meets.