Editor's note: This is a regular feature profiling senior athletes at Bryant High School.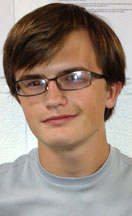 NAME: James Colin Tyhurst

PARENTS: Richard and Monique

SIBLINGS: Ashley, 22

FAVORITE SUBJECT IN SCHOOL: Math/History

WHAT DO YOU LIKE TO DO IN YOUR SPARE TIME? Historically accurate video games

FAVORITE FOOD: Vinegar chips with cream soda

FAVORITE MUSIC ARTIST OR GROUP: Tool

FAVORITE MOVIE: Pulp Fiction[more]

FAVORITE TV SHOW: Modern Marvels

WHAT WAS YOUR FAVORITE TOY AS A KID? Legos/YuGiOh

WHAT ARE YOUR PLANS AFTER HIGH SCHOOL? Structural engineering

OTHER THAN YOUR PARENTS, WHO HAS HAD THE BIGGEST INFLUENCE ON YOUR LIFE? John Maynard Kennan; his music has changed by worldview more than any other single person.

FAVORITE THING ABOUT CROSS COUNTRY: Our infinitely interesting antics.

WHAT'S YOUR APPROACH TO A RACE (Strategy/Preparation)? Focus in without stressing out; tensing up works against your muscles and bloodflow.

WHAT DO YOU THINK OF THE SEASON? I am pretty happy we are iin good competition, though otherwise I'm apathetic.

WHAT'S BEEN THE HIGHLIGHT TO THE SEASON? The part with the running and the people at that one place at that one time.

AFTER YOU'RE THROUGH RUNNING CROSS COUNTRY AT BHS, WHAT DO YOU THINK YOU'LL REMEMBER MOST FONDLY ABOUT IT? Always pushing myself to the best of my abilities no matter what tried to get in my way.